Annual Report 2017
LEADING FOR CHANGE IN HUMANITARIAN AID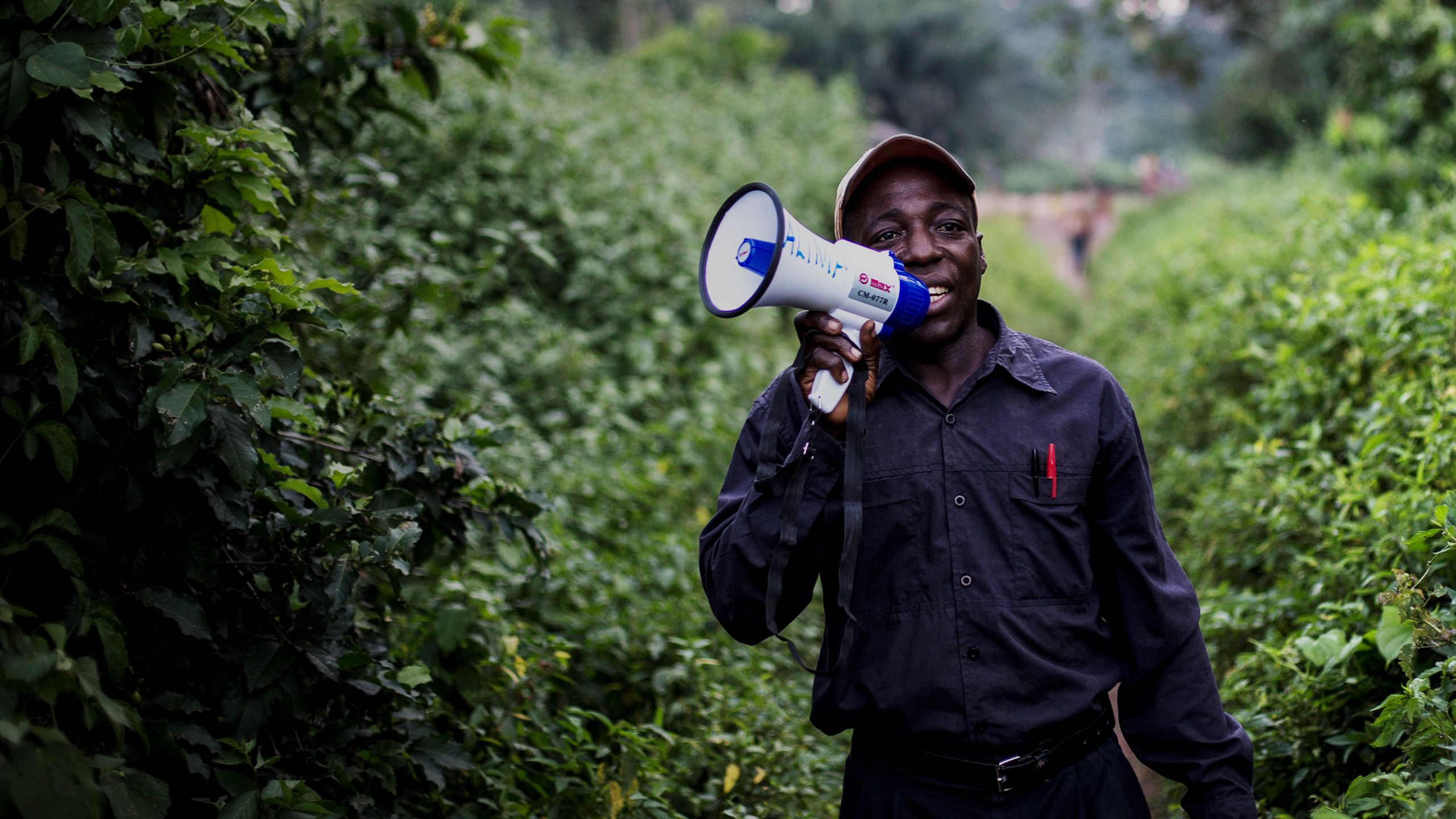 John Wessels / ALIMA, Start Fund alert 160, DRC, outbreak of Ebola – May 2017
John Wessels / ALIMA, Start Fund alert 160, DRC, outbreak of Ebola – May 2017
OUR VISION
Start Network is part of a global movement that is revolutionising the way humanitarian aid is dispersed.

So what does the Start Network want the future to be like?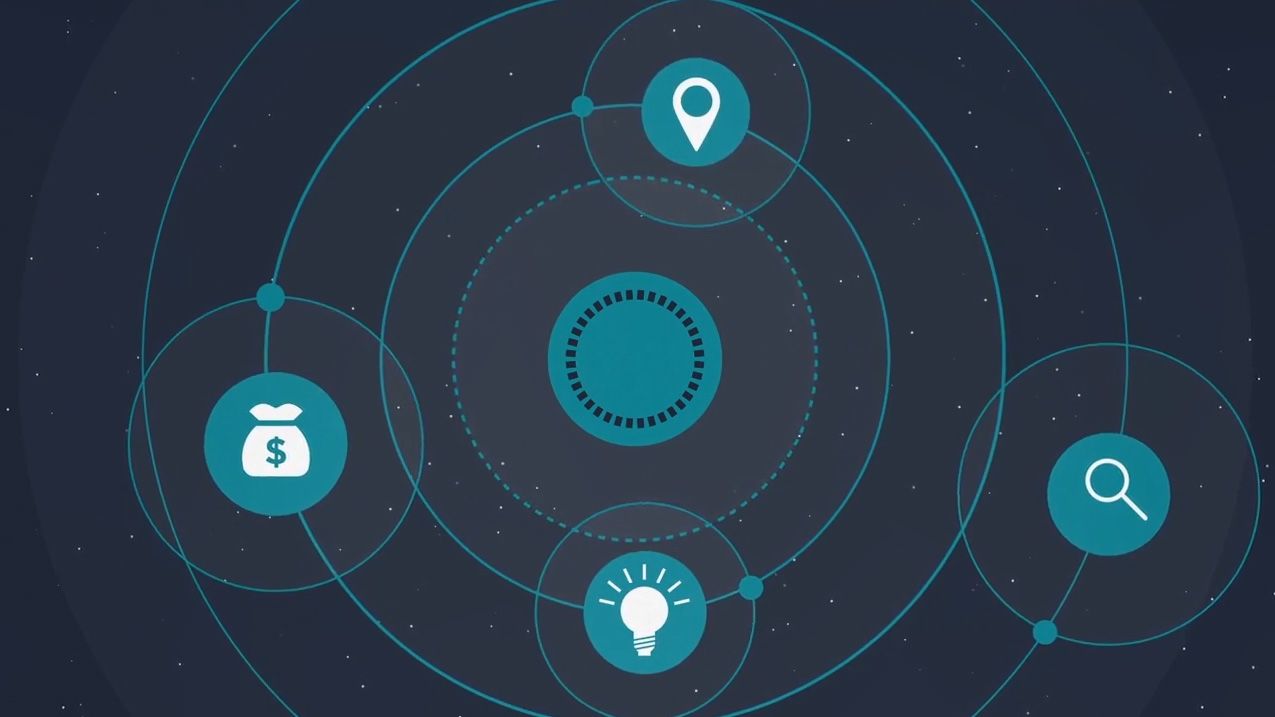 Video created as part of 'Start Evolves' in 2017.
Video created as part of 'Start Evolves' in 2017.
Imagine it's 2030...
In a country facing a drought that looks set to cause suffering for thousands.
A hub of humanitarian organisations operating in the country has insured against drought. They have identified a number of locally relevant drought indicators, such as soil moisture. When the soil moisture falls below the trigger level, the funding needed to reduce the drought's impact is automatically released.
An ecosystem of local, national and international organisations and private sector operators mobilise to an agreed plan. Cash is transferred to households before they have to sell their productive assets.
Some of the assistance is unique, created in the hub's own disaster preparedness innovations lab.
All of the funding is allocated by peer review, going to the organisations best placed to respond. Every single dollar is tracked on a fully transparent public ledger.

Crisis averted.
You've just read a scenario that is possible and needed.
For too long aid has been unevenly distributed, in unfair and inefficient ways.
With Start Network we can right this wrong, we can minimise the loss of life and livelihoods and maintain the dignity of people affected by crises.
The sector has to overcome a number of problems before we can work together to avert crises in this way. But we are ready. The change we all want to see, can and will happen.
Images:
John Wessels / ALIMA, Start Fund alert 160, DRC, outbreak of Ebola – May 2017

NRC / Jim Huylebroek, Start Fund alert 135 Afghanistan conflict. Almar displaced family- January 2017.
Foreword and Introduction
From the Start Network Chair in 2017 and its Director.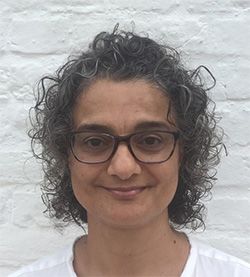 "Through Start, we are advocating for radical change in the international aid system so that the world can better manage the humanitarian challenges of today, and of the future."
Lola Gostelow, Chair Board of Trustees in 2017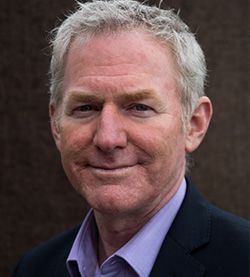 "Our achievements are significant but esoteric. What matters is that our efforts actually help people, and they do… In 2017 the Start Network responded in 87 emergencies in 38 countries. In addition to helping millions of people affected by those crises, our efforts have also helped make aid better for the people who deliver it. Read on to hear from Akane Ujulu a health worker in Gambella, Ethiopia; Zahara Ibrahim a WASH officer in the Philippines; and other humanitarians in our network."
Sean Lowrie, Director of the Start Network
THEORY OF CHANGE
Disasters around the world are becoming more severe, complex and interconnected.

Public trust in humanitarian organisations is decreasing, which leads to stronger risk-aversion by donors. This creates systemic problems.

Our solutions aim to overcome these problems so that more lives can be saved in times of crisis.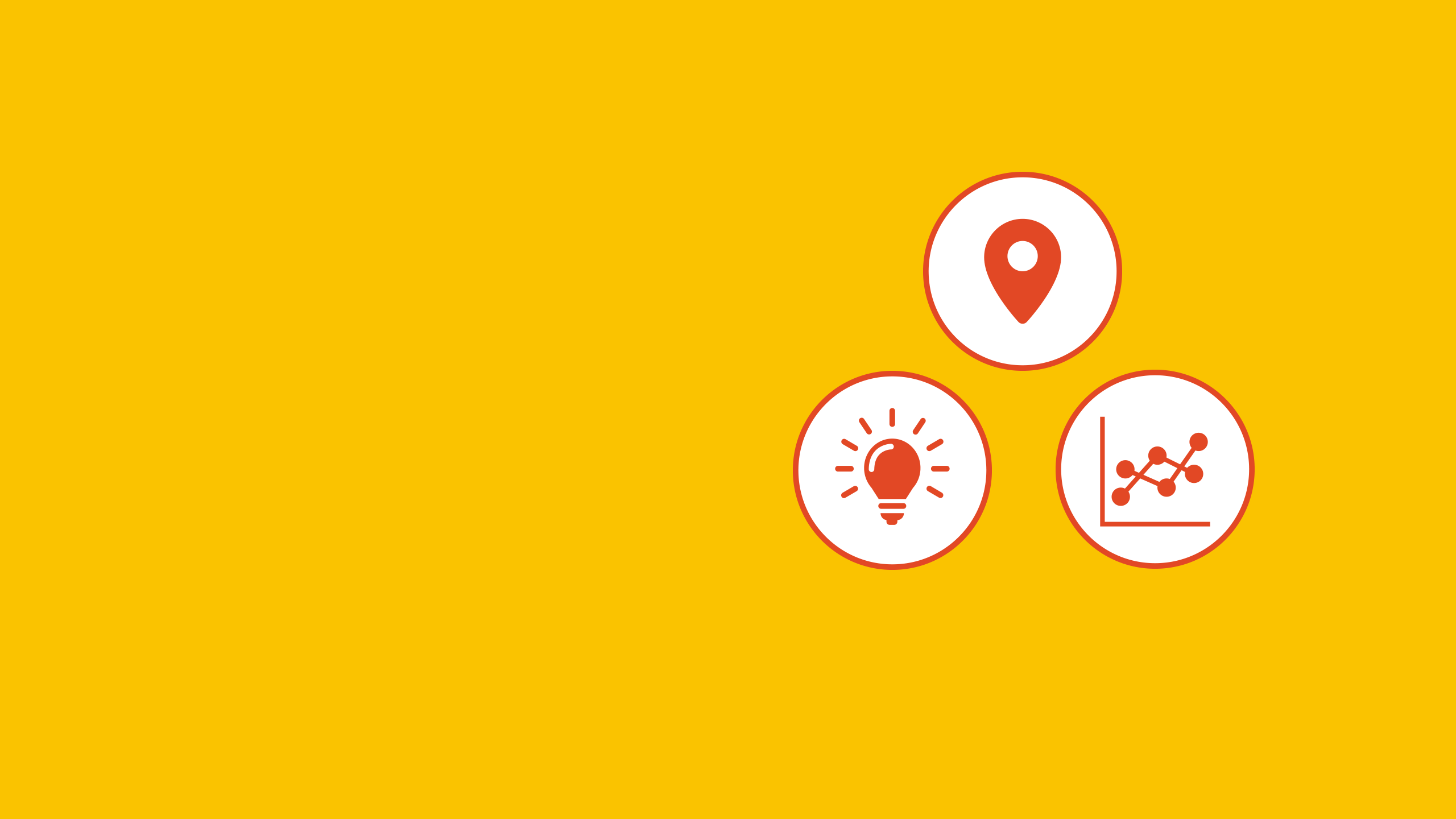 "Our collective work has resulted in a shared belief that the Start Network has important experience to share, and that it must continue in taking its experience to scale around the world."
Sean Lowrie
Director, Start Network
Lopez Balan / CARE International, Transforming Surge Capacity project in Nepal. Part of the wider DEPP programme.
Lopez Balan / CARE International, Transforming Surge Capacity project in Nepal. Part of the wider DEPP programme.
91% of members would recommend working with or joining the Start Network
Start Network is a global community of humanitarian and others committed to building a better system. Here members, partners and donors explain why they value the Start Network.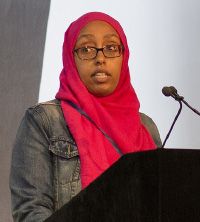 "Start is empowering Adeso (to influence change) by giving it the opportunity to be involved in these discussions and conversations, and to influence different types of stakeholders.We think it's important to be a member of the Start Network, because we want to ask the difficult questions but also provide practical solutions."
- Deqa Saleh, Cash and Social Protection Advisor, Adeso - Start Network member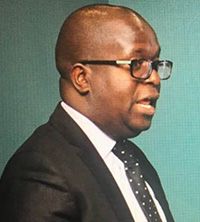 "Start Network has given MANEPO an opportunity to showcase its potential that local/national NGOs are capable of delivering emergency programmes in a timely and effective manner, if given space and opportunity.For the first time in the history of Malawi, Start Network provided an opportunity to MANEPO to provide age friendly related interventions to older men and women, in a way putting MANEPO on the map and making it earn recognition among various players, including the development partners and donors. The approach adopted by Start Network remains an amazing way of empowering and strengthening capacity of local and national NGOs."
- Andrew Kavala, Executive Director, MANEPO - Start Network partner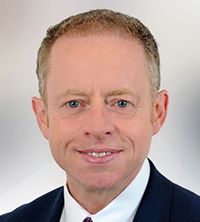 "The Start Network's approach to change and its willingness to challenge the humanitarian system is an important contribution to more effective international responses to crises. The Start Network helps to convert the Grand Bargain commitments, made at the World Humanitarian Summit by Ireland and other stakeholders, into real tangible support for the world's most vulnerable people. By supporting humanitarian responses by national organisations closest to the ground, and through innovation, including the use of cash transfers and investing in alerts to crises before they happen, the Start Network is contributing to a transformation of humanitarian action."
- Ciarán Cannon, T.D. Minister of State for International Development and the Diaspora, Ireland - Start Network donor
IMPACT
Our impact in 2017 emphasised the difference that we can make when the humanitarian sector works together.

In 2017 we reached more than 2 and half million people affected by crises. That's 2.5 million people who may otherwise have been overlooked.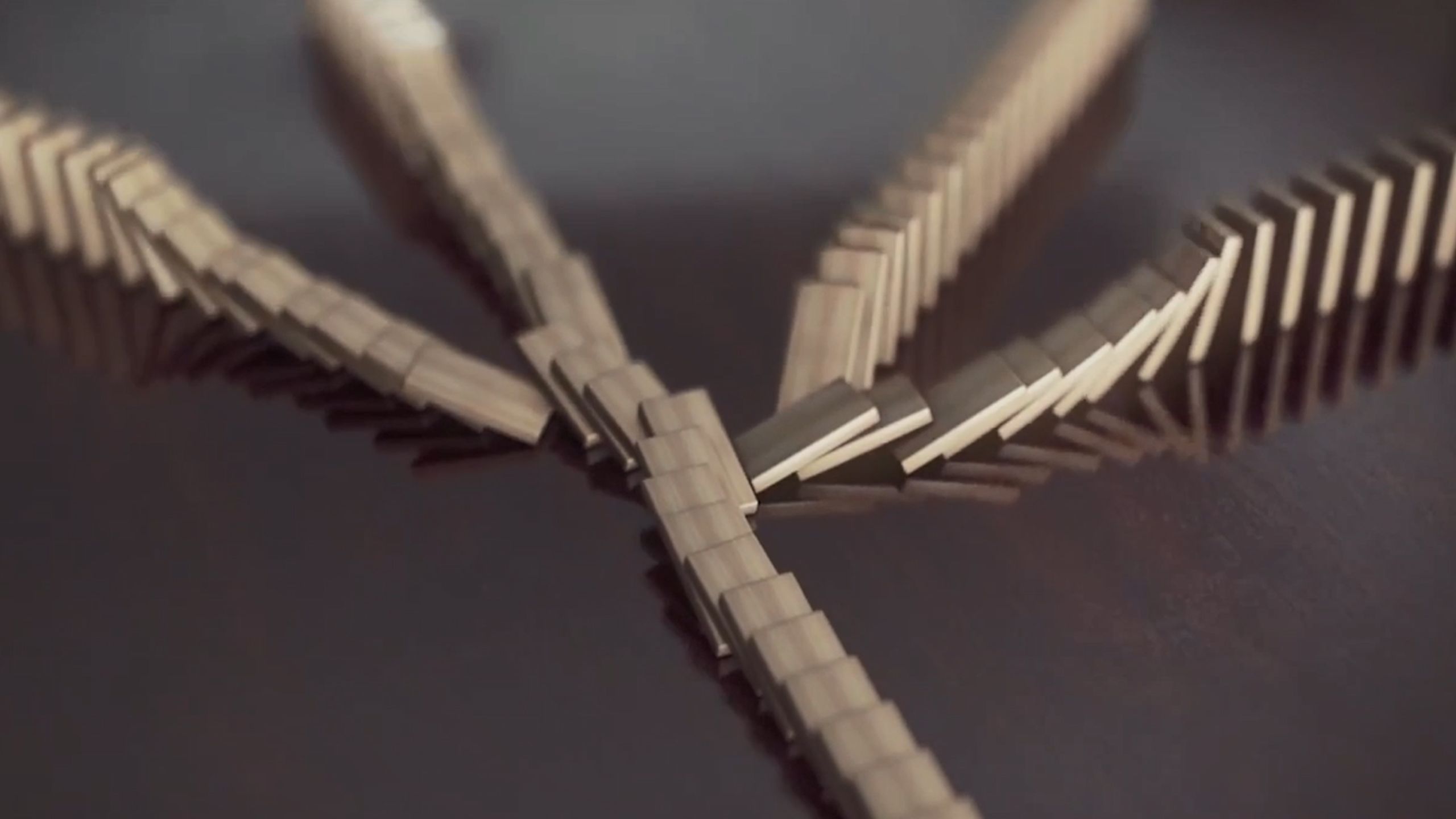 LOCALISATION
We must have a more balanced international aid system - one that shifts power to those closest to the front-line, creating better help for people affected by crisis.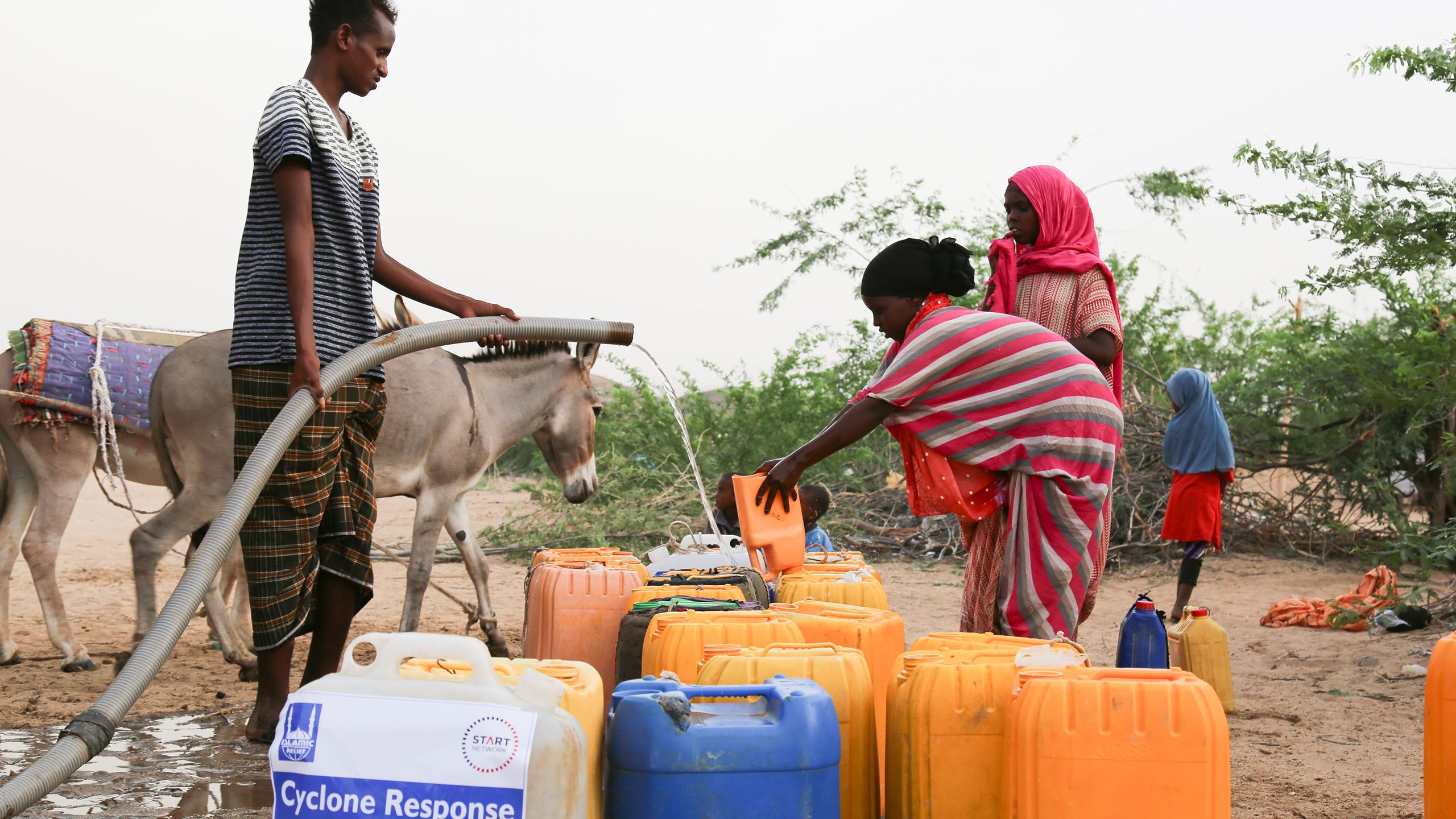 Awil Abukar / Islamic Relief, Start Fund alert 238 Somalia, tropical storm Sagar - May 2018.
Awil Abukar / Islamic Relief, Start Fund alert 238 Somalia, tropical storm Sagar - May 2018.
Our approach
At the Start Network we're striving for a system where local and national responders have the means to do so, and where international organisations can help if local capacity is exhausted. But we're a long way down the road to change. Looking at global aid funding in 2017, local and national NGOs received just 0.4% directly of all international humanitarian assistance reported to the Financial Tracking Service.
We have already developed programmes that enable more direct access to funding, local decision-making, that support the growth of local innovation and develop local capacity, but there's a lot more to be done.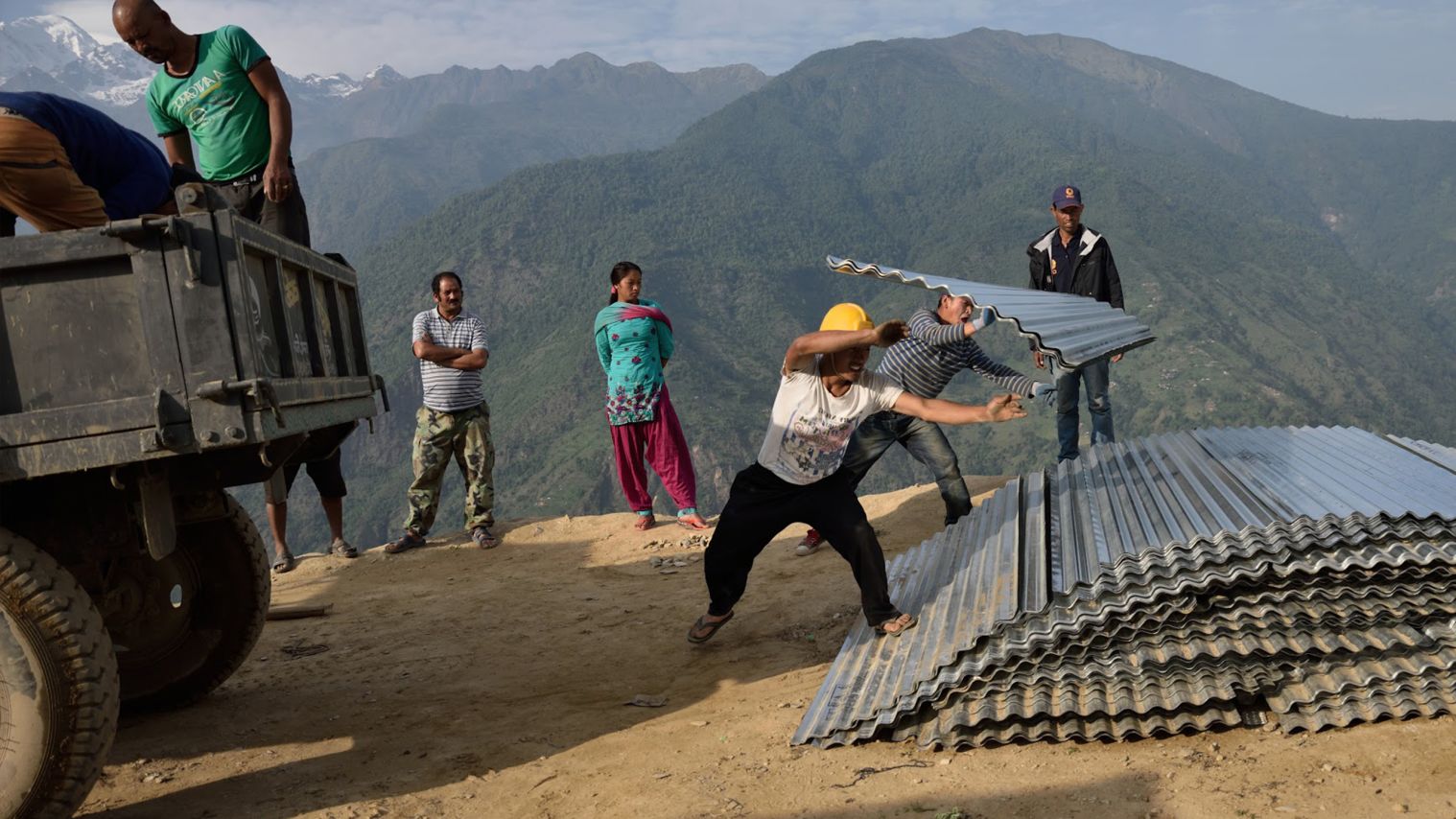 Our achievements in 2017
In 2017 we built local capacity through the Disasters & Emergencies Preparedness Programme (DEPP).
We fostered local innovation through the DEPP Innovation Labs programme. We launched the Start Fund Bangladesh, the first national Start Fund in April 2017.
In May we launched Start Evolves, a global process aimed at co-designing the future of the Start Network.
In August 2017 we published The Start Fund, Start Network and Localisation, a review of the Start Fund and three DEPP projects.
OUR PERFORMANCE STATISTICS FOR 2017: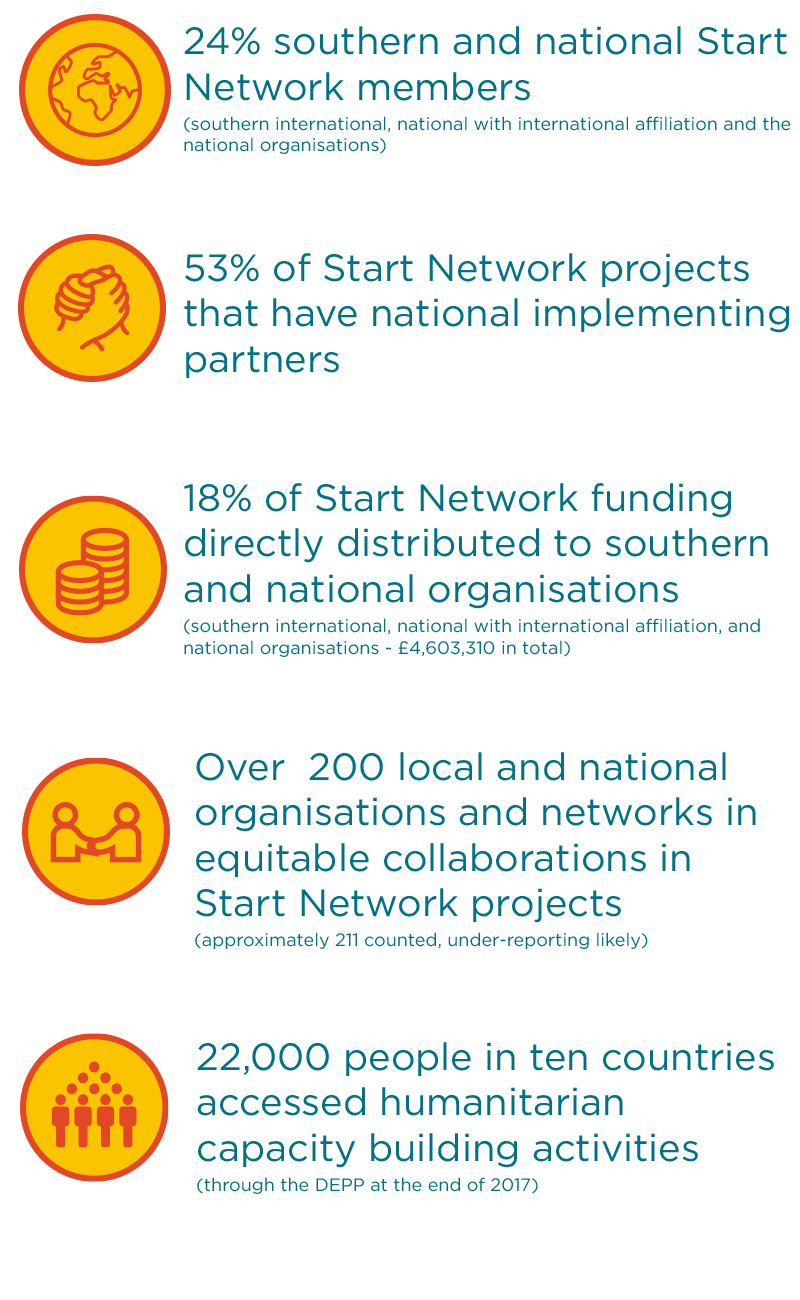 Our ambition
So much more can be done and to continue this work effectively we are seeking partners and supporters to help us in the following ways:
The reviews into localisation that we carried ou..t in 2017 identified a number of areas where improvements can be made. So, going forward we will aim to encourage more quality partnerships, to increase equity of local organisations and therefore the power they influence.
We also aim to raise the awareness of localisation as a driver of effective humanitarian aid, so local and national organisations can hold international organisations to account on their promises. Shared knowledge of local and national capacity and leadership will also help tackle the assumption that national and local capacity is low.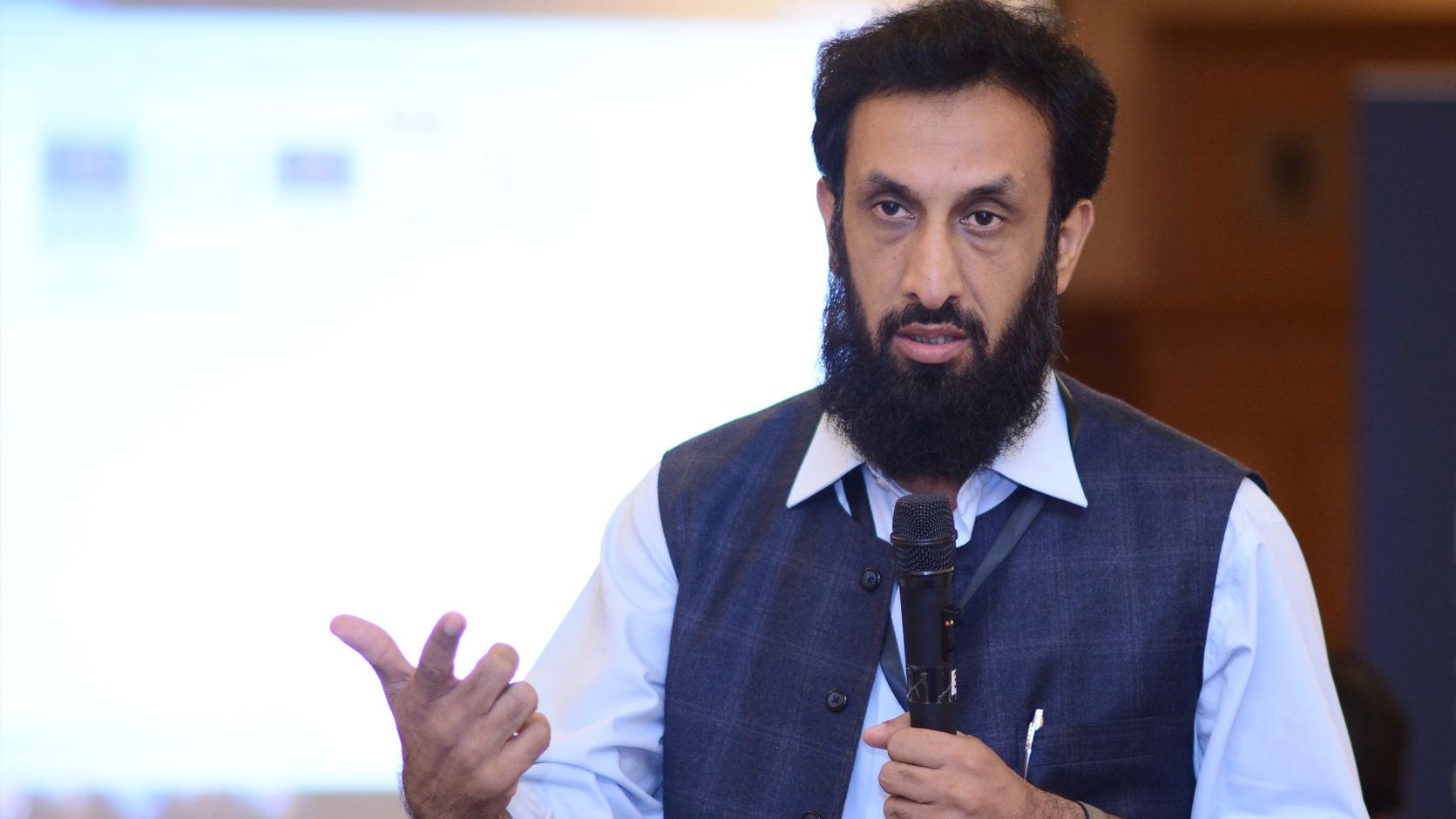 In order for the Start Network to grow regional and national hubs in future, we will open up membership to smaller nationally based aid agencies. We are convening a global Hubs Advisory Group to guide and expand the network in line with our mission to change the balance of power in the humanitarian system.
We are also exploring a new due diligence platform working across global tiers which we believe is fundamental to enabling a greater number of local and national organisations to access funding. Our new system will be tiered to lower the barrier while building capacity will help organisations move up the scale.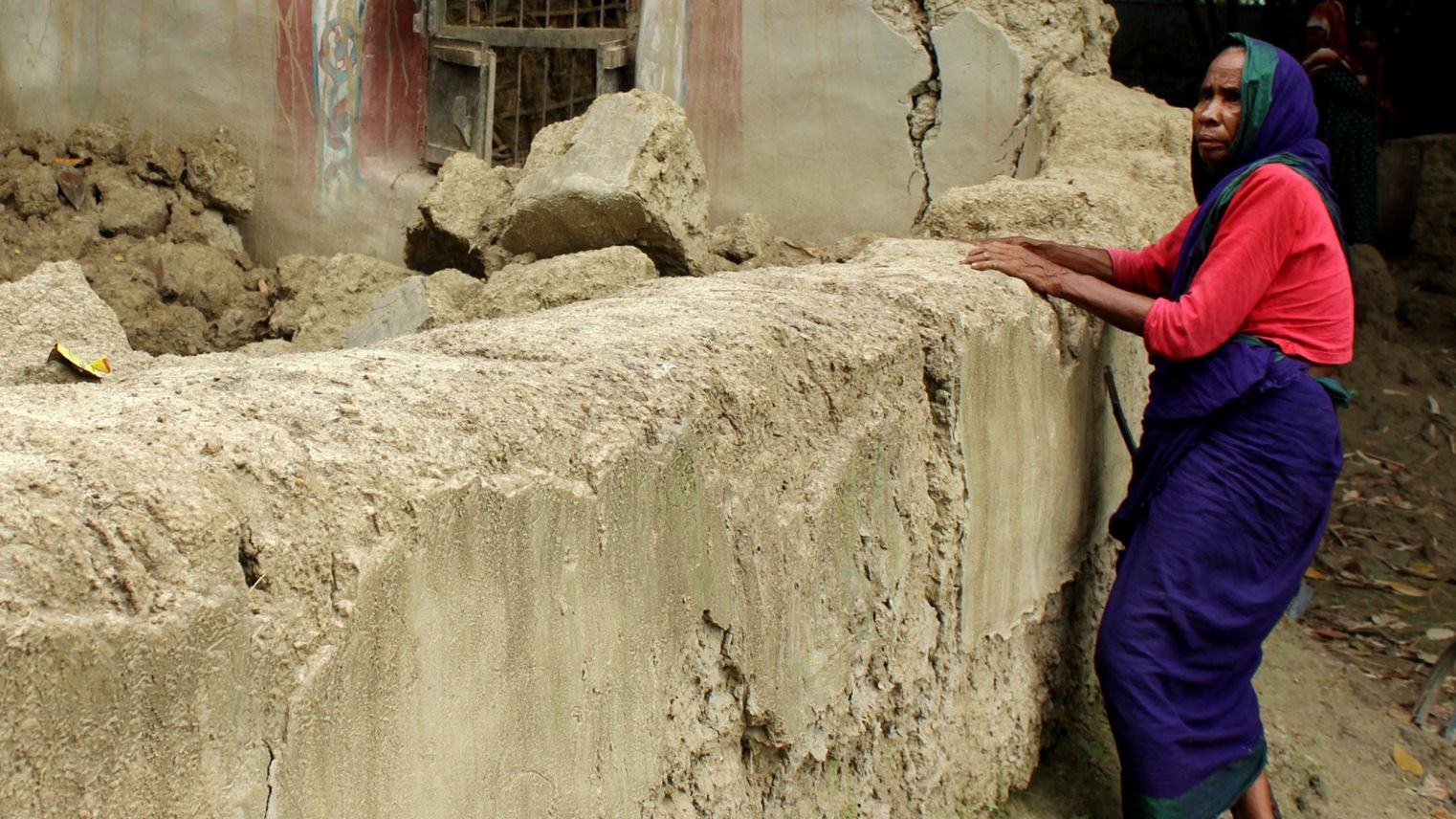 For more information on our work on localisation please visit our website or read the full Start Network annual report.
Case study: How local collaboration enabled a faster and stronger response to the Marawi crisis (Philippines)
An hour before the call to prayer, Zahara Ibrahim gathers a group of people in an evacuation centre in a town near Marawi in the Philippines. The centre is currently home to 168 families fleeing the violence in the city. The evacuees are there to hear about hygiene, as residents of many of the evacuation centres have been falling ill and many deaths have been reported.
"If someone gets sick and is left untreated, they might die. This is what we want to prevent."
The violence in Marawi began in May 2017 and months later, tens of thousands of people remained displaced as the violence raged on - until November 2017. The Start Network provided help to people affected through two programmes.
The Start Fund responded quickly. On 28 May Start members came together and raised an alert three days later. The Project Selection Committee met in Manila on 3 June to consider the nine proposals and awarded Action Against Hunger, Catholic Relief Services, and Oxfam, a total of £257,721 for immediate response.
"Even CERF emergency funding came too late. The Start Fund proved to be one of the fastest."
- Javad Amoozegar, Action Against Hunger.
The Start Network's Disasters and Emergencies Preparedness Programme (DEPP), already had six projects running in the country and was in a unique position to enhance the quality of the response. Agencies were better prepared to work together as relationships had already been established at workshops, training, and Start Network events, which allowed consortia partners to respond to the emergency in an efficient, coordinated way.
Zahara is a WASH officer for the Humanitarian Response Consortium, part of the DEPP's Financial Enablers project. She was also trained through the DEPP's Transforming Surge Capacity project and is a member of its national surgery roster 'On Call' - which brought her in to help the evacuees.
"For me it is important to deploy local staff because they understand the culture of the people better."
Zahara Ibrahim, part of the DEPP's Financial Enablers project.
The DEPP projects had been advocating for the inclusion of local organisations in national structure in the Philippines. And for the first time, UN OCHA included local organisations in its mapping of humanitarian actors. This recognition gives them more prominence and therefore more power to influence the response and advocate for the people in need.
Images:
Catholic Relief Services, Philippines. Start Fund Alert 165, conflict displacement. Registration of beneficiaries by volunteers in Marawi - June 2017.

Ma April R. dela Cruz / Catholic Relief Services, Philippines. Start Fund alert 165 conflict displacement. People are seen loading up a rented vehicle with shelter kits they received - June 2017
NEW FINANCING
Funding is so important - but it's not just the 'how much?'
It's the 'when, where, how and why?'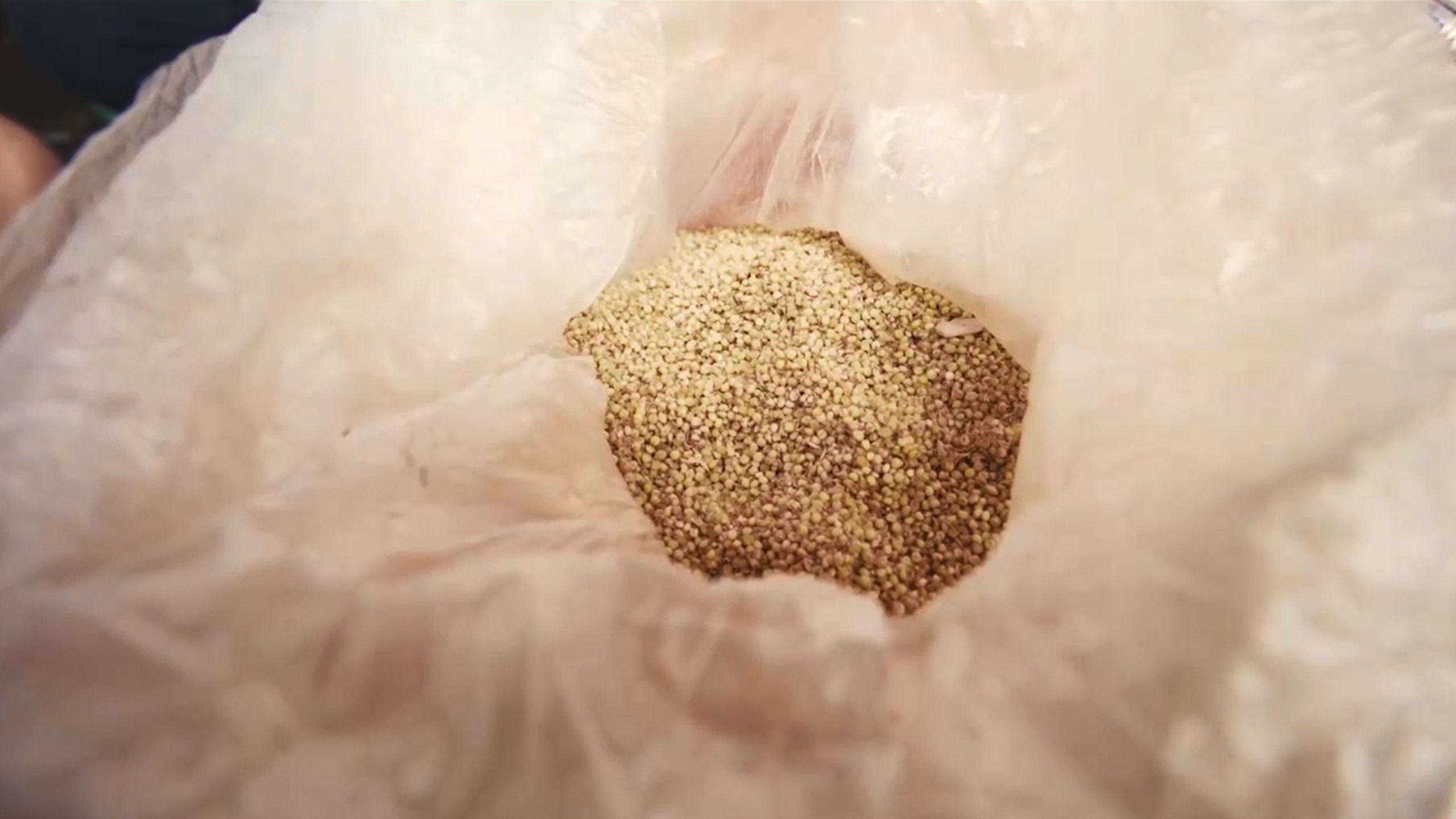 Action Against Hunger, Start Fund Alert 134 Philippines, typhoon - January 2017.
Action Against Hunger, Start Fund Alert 134 Philippines, typhoon - January 2017.
Our approach
We believe that by providing funding fast, early, in a collaborative way – and by providing it based on need and not on media headlines or political will - we can help responders and communities to become better prepared to act in a crisis.
In short, fast funds in the right place at the right time, saves lives.We enable fast and early action through our pooled funds to tackle the kind of crises that are often overlooked by other funding mechanisms. Risk financing aims to ensure predictable and early funding to reducing the impact of disasters even before they hit. Such planning saves more lives.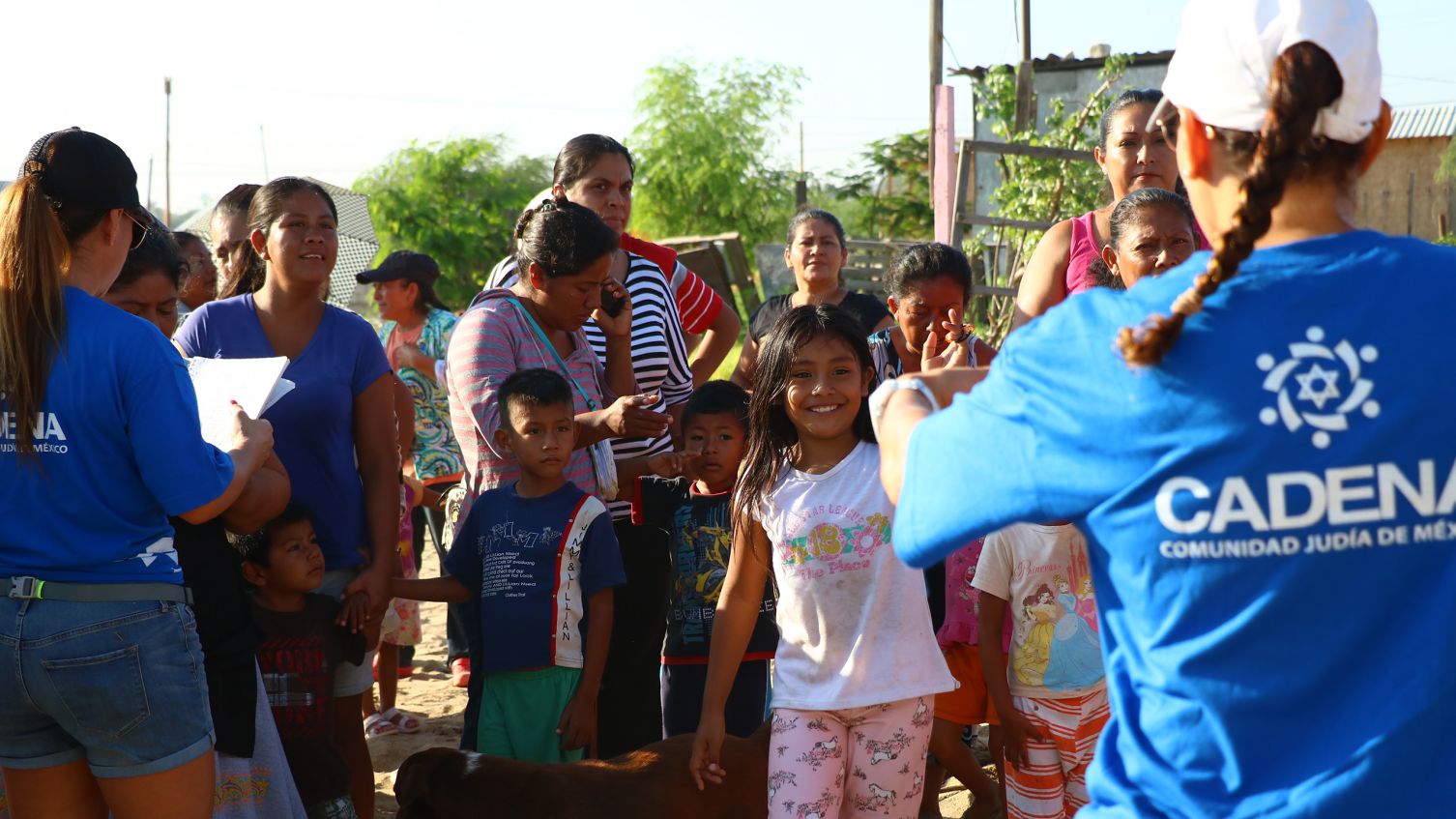 Our achievements in 2017
We disbursed £9,999,293 from the global Start Fund, reaching almost 2.5 million people, across 34 countries.
The Start Fund's Anticipation Window saw seven anticipatory alerts, three of which were funded.
The Start Network became the official Replica Partner for the African Risk Capacity (ARC) in Senegal.
Pakistan's National Disaster Management Authority (NDMA) announced it would join Start Network's partnership to test our Drought Financing Facility.
The Migration Emergency Response Fund (MERF) was launched in January 2017.
OUR PERFORMANCE STATISTICS FOR 2017: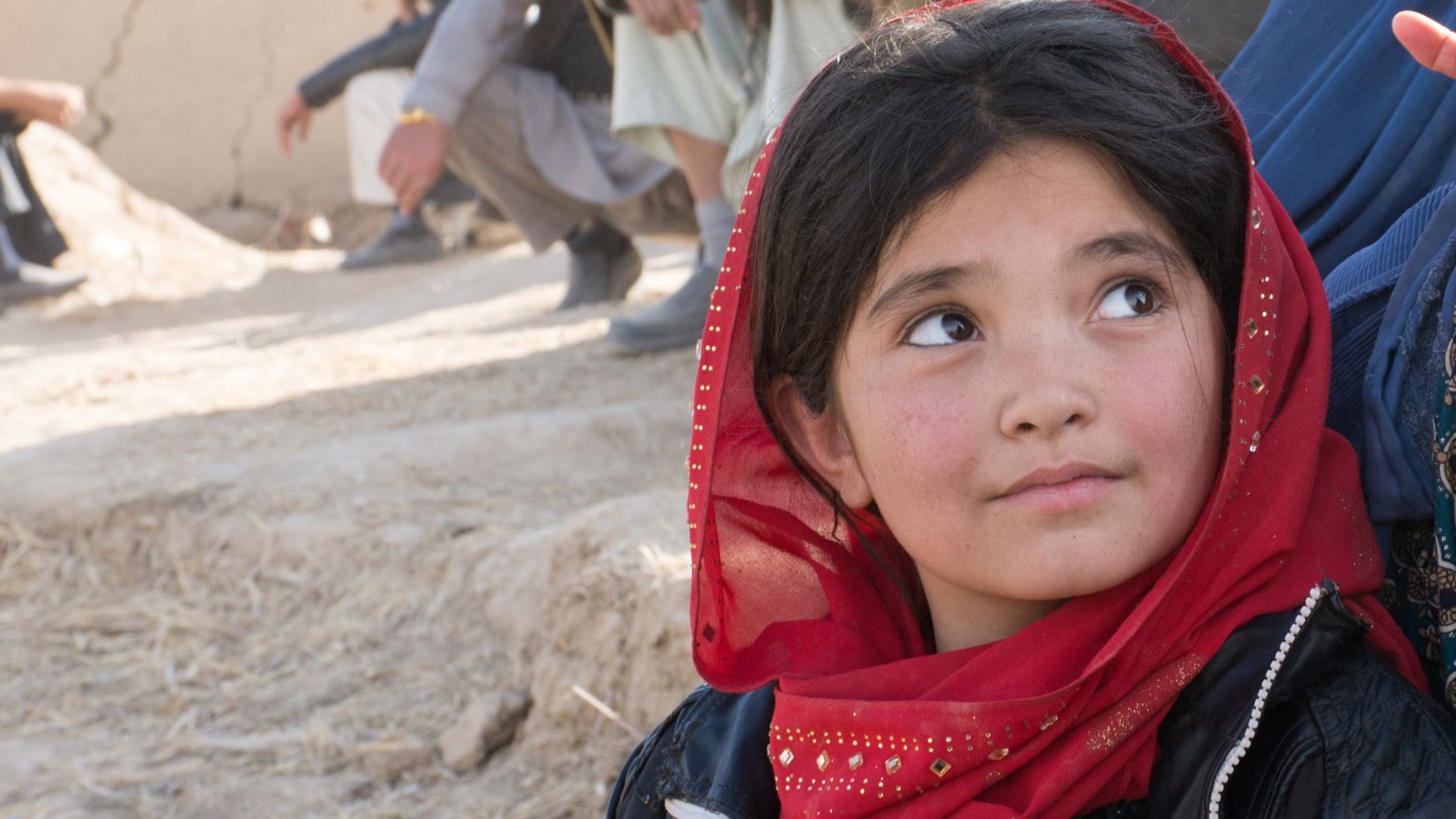 Our ambition
Our ambition is for a bigger shift in global aid financing.
As the Start Network scales through hubs across the world, new national and regional funds would be created and connected through a global 'Start Financing Facility'. This will allow donors to channel funding throughout the network and ensure that funding reaches the places where it is most needed, when it is needed.
The Start Fund is the fastest tool of its kind, but we want to be faster. On average, it takes 10 days for assistance to first reach people in need. We're investing in anticipation and risk financing tools to ensure that we meet urgent needs sooner, increasing resilience and leaving no one behind – as humanitarian actors have promised in the 'Grand Bargain.'
In 2018 the Start Network will take out its first 'Replica' insurance policy (as part of the ARC Replica Programme), based on planning and preparations carried out since the launch of Replica in July 2017.
Our ultimate aim is to shift NGOs towards a risk financing approach, and for that a fundamental change of the humanitarian system and different financial architecture, with new financial instruments – such as insurance, contingency funds, loans and bonds - is required. The Start Network will work with the World Bank in 2018 to conduct a feasibility study for a Start Financing Facility, which will look at the practical, technical and legal options to do just that.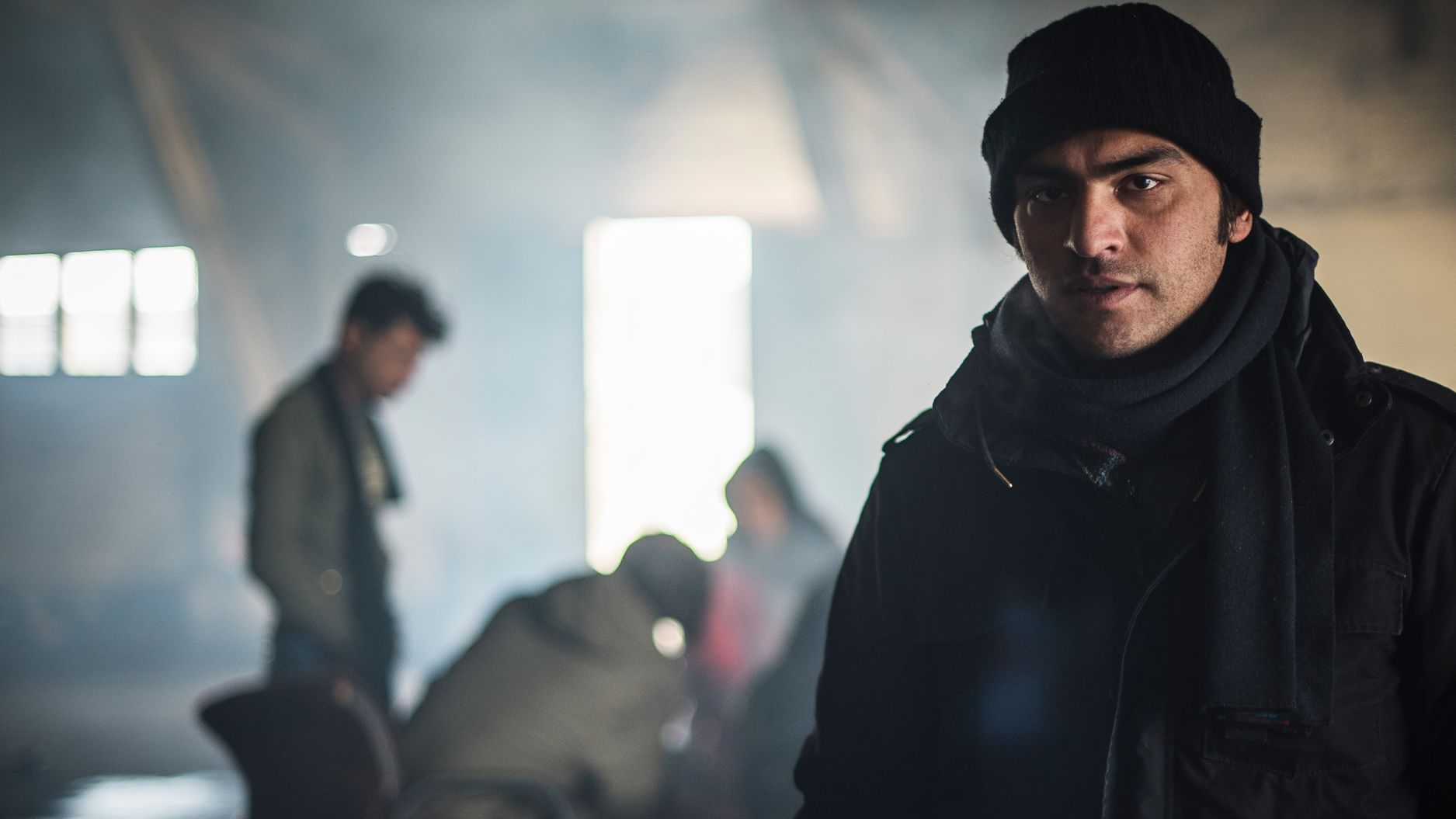 For more information on our development of new financing tools, please visit our website or read the full Start Network annual report.
Case study: Anticipating high stakes elections in Kenya
The people of Kenya went to the polls in August 2017 to vote in a fiercely contested presidential election. Two months earlier, there were signs of unrest and Start Network members became concerned about the growing risk of violence.
Building from an experience in Burundi in 2015, where an anticipation alert related to escalating violence wasn't activated because decision-makers didn't have a clear understanding of how the context would unfold, Start Network members conducted an inter-agency context analysis, using funding from the Start Fund's Analysis for Action (AA) Grant. With advice from FOREWARN, Start Network members identified likely scenarios and actions members could take to mitigate risk. One of the likely scenarios that Start Network members identified unfolded between August and November 2017. Because of this scenario planning, members were better prepared to act.
"Because of the Analysis for Action Grant findings, we scaled up our own internal funding. We were able to do this because we had a clearer understanding of what was going on."
- Start Network member
The findings from the analysis triggered a Start Fund anticipation alert. Start members released £300,000 to fund a consortium project (submitted by 11 members, led by Action Aid).
It focused on six high-risk counties and filled gaps in the Kenya Government National Contingency Plan. Start members prepared for potential unrest by: supporting OCHA's election preparedness hubs, combining food distributions with social cohesion activities, prepositioning key supplies, working with national religious leaders to promote messages of peace, setting up safe spaces for children and working with communities to develop their own plans in case violence erupted.
As feared, there were high levels of tensions in Kenya from July to November: more than 70 people died because of riots and protests, yet Start Network members were well positioned to address the escalating tensions.
"It was a long process preparing for the elections, when you get near the end, it's very difficult to raise capital quickly- right when you see dynamics changing. The Start Fund adds value when we're coming down to the wire. Other funding comes in after risks have materialised"
- Start Network member
Images:
Dorcas Aid, Start Fund alert 175 Kenya, anticipation of election violence. Beneficiary selection and identification takes place in a community at risk of election-related violence.

Dorcas Aid, Start Fund alert 175 Kenya, anticipation of election violence. Peace forum with community leaders.
COLLECTIVE INNOVATION
The Start Network is uniquely positioned to drive innovation as a tool to change the global aid system.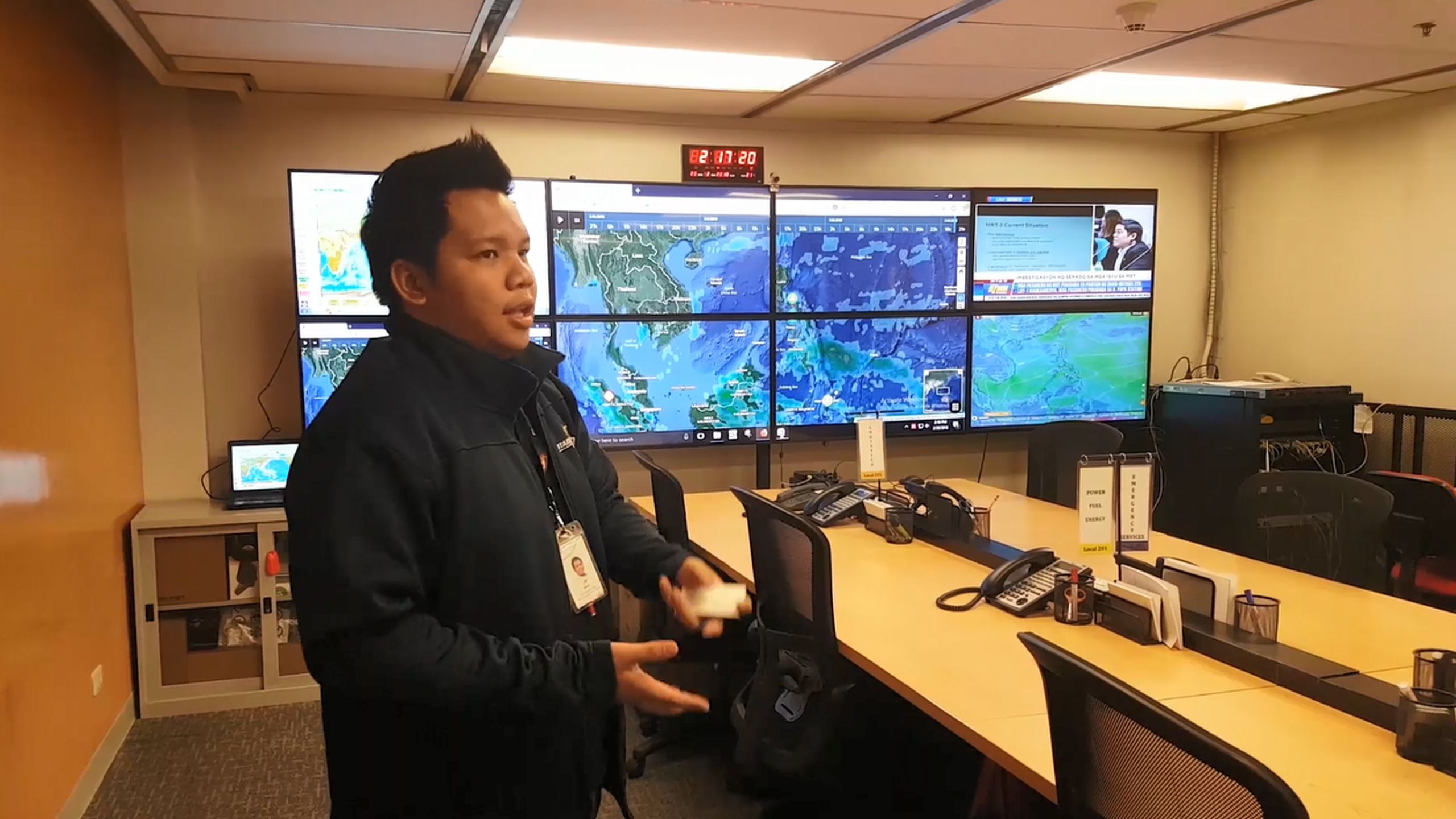 Approach and performance
The Start Network is uniquely positioned to drive innovation as a tool to change the global aid system.
Since the outset, Start Network members have been innovating together; introducing initiatives such as the Start Fund and the Anticipation Window. We're building a more strategic approach – selecting the innovations we work on and using the depth of the network to provide a route to scale initiatives with best potential for impact.

We believe that people facing the problems are better placed to solve what's in front of them. So, we aim to foster innovation and support people to develop innovation at a local level. Our approach to innovation involves forging partnerships across private sector and civil society too, as they can bring ideas well-tested in other situations.

Our achievements in 2017
The Disasters and Emergencies Preparedness Programme (DEPP) Innovation Labs programme established nine innovation labs in 2017, in Bangladesh, Jordan, Kenya and Philippines.
We worked with financial technology start-up, Disberse, to develop a blockchain based platform for humanitarian aid finance transfers.
We launched the Start Fund Portal, a new technology platform that allows members, donors and the public to monitor humanitarian alerts as they happen and see how many people have been helped.
One breakthrough introduction was our Analysis for Action grants, enabling members to gather and analyse the information needed to raise anticipation alerts.
We established a partnership to pilot a Forecast Based Financing project in Madagascar, which aims to use scientific modelling, contingency planning and pre-positioned financing to protect populations from drought. 
We worked with Willis Towers Watson, the Overseas Development Institute and Save the Children to conduct a feasibility study to understand the applicability of risk financing to the education sector.
We also joined the newly set up InsuResilience Global Partnership which we use to publicise its risk financing work, engage with key stakeholders and influence the global policy debate.
Furthermore, we teamed up with partners to design and secure funding for the Drought Risk Finance Science Laboratory (DRiSL).
OUR PERFORMANCE STATISTICS FOR 2017: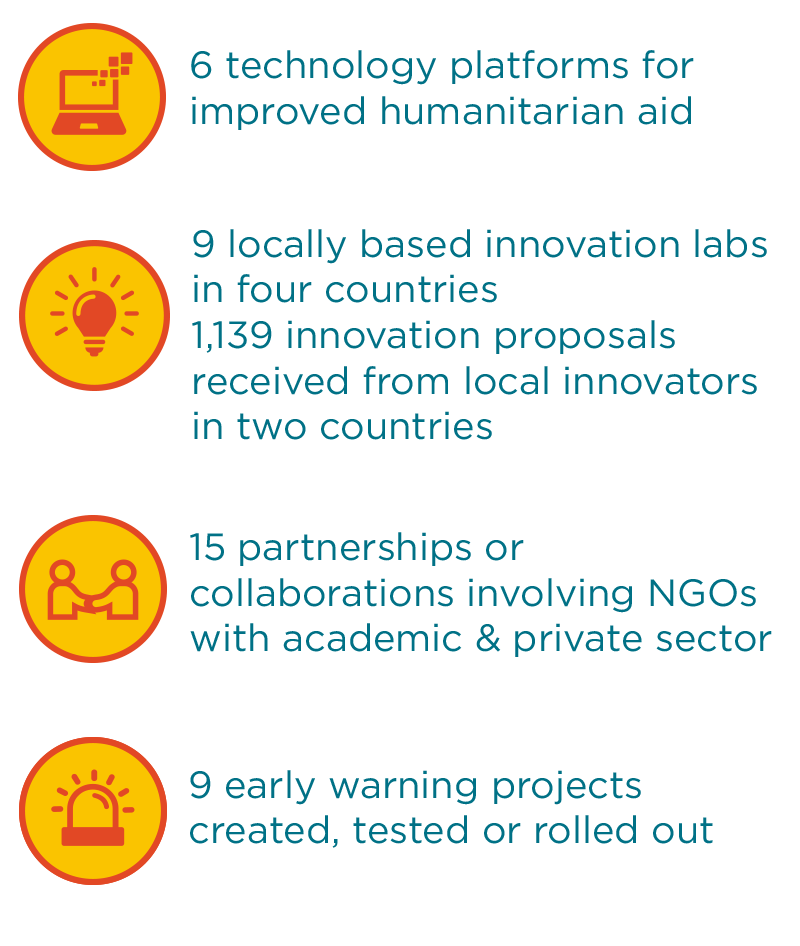 Ambition
The road ahead, and keeping track of advances.
As the network grows, we include an innovation component in the network's strategy to ensure we focus on where we can be most effective – catalysing change and using KPIs to track our progress and prove our value.

We plan to shift to a risk financing approach and to increase the number and quality of early interventions. We will pilot a broader range of financial instruments, and develop the Start Financing Facility to house these, gaining practical experience in using different financial mechanisms through our existing pilots, such as ARC Replica.

We will also develop national FOREWARN groups to foster anticipation approaches in their own countries and learn from crises that could have been anticipated such as the Sierra Leone mudslides.

In future we will build on the DEPP Innovation Labs, to enable innovation to be managed at the local level, supporting future Start Network hubs to support locally-driven innovation addressing the needs identified locally. We will facilitate network-wide learning, allowing all parts of the Start Network to share and learn from one another.

Finally, as the network evolves, we will experiment with new ways of collaborating, enabling all organisations, including those currently excluded from traditional humanitarian systems, to work together and participate equitably.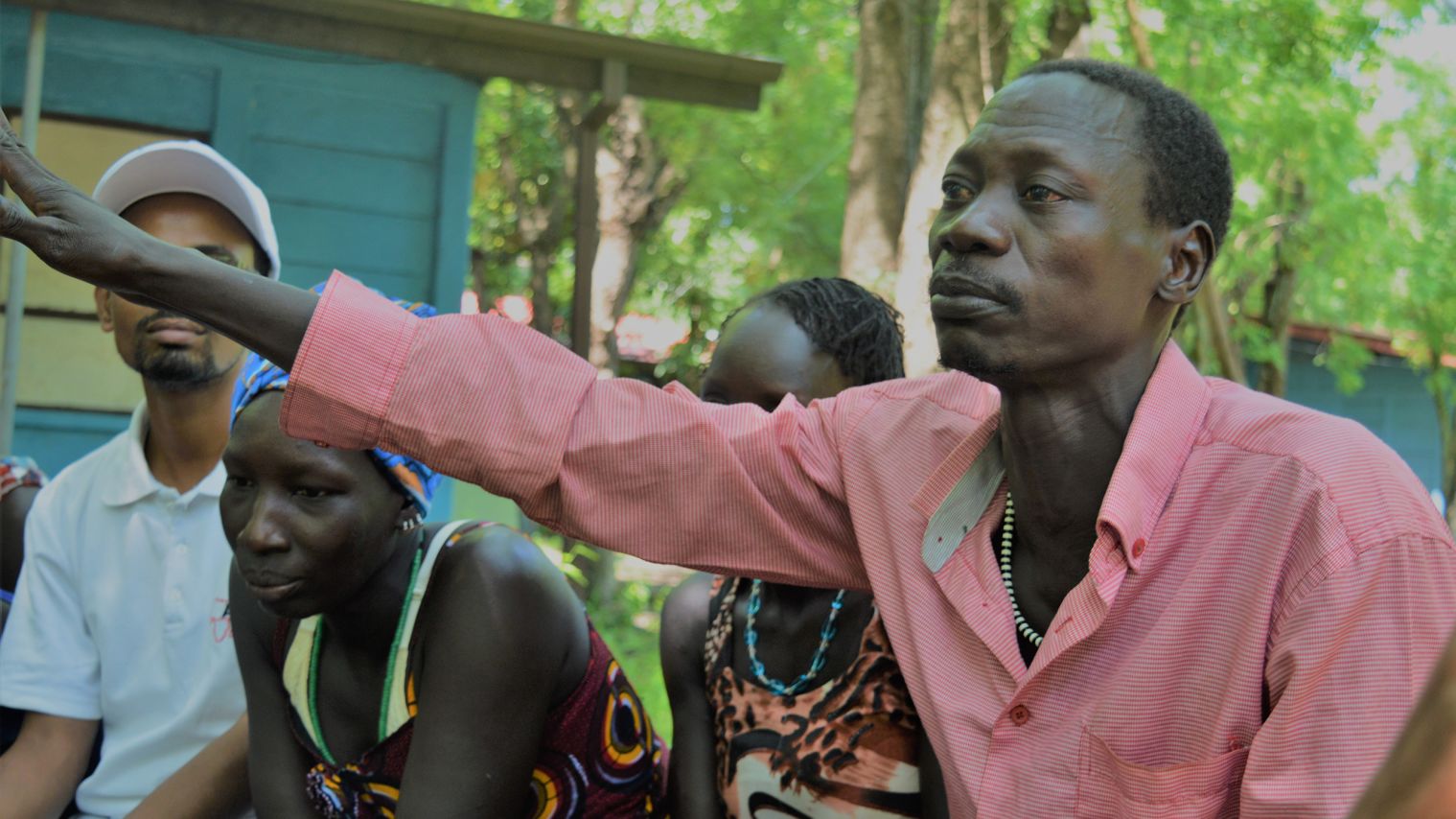 For more information on innovations, please visit our website or read the full Start Network annual report.
Case study: Community centred innovations in Philippines
In Tacloban City, survivors of Typhoon Haiyan are working together to develop innovative solutions to better prepare for disasters. DesignNovator, a team of interior designers who also experienced the typhoon, is developing Bakwit Kit, a kit that creates a secure space for displaced families during a preemptive and post-disaster evacuation.

"In creating Bakwit Kit, we saw how innovation is a venue to exchange knowledge and collaborate with different sectors of the community to solve a problem,
"We have learned so much from children and community members after designing with them and gathering their feedback. The input we received from the community will contribute to the second prototype of Bakwit Kit."
-Heidrun Milan of DesignNovator
The Philippines TUKLAS Innovation Labs supports Bakwit Kit, along with 39 other community-centered innovations on disaster preparedness. The innovations will undergo testing and refinement together with communities until December 2018.
Images:
TUKLAS Innovation lab, Philippines - part of the DEPP Innovations lab. Skilled workers partner with DesignNovators to design Bakwit Kit.
EVOLVING THE NETWORK
Our vision is bold and ambitious. To achieve it, we have set three strategic areas that the network will focus on.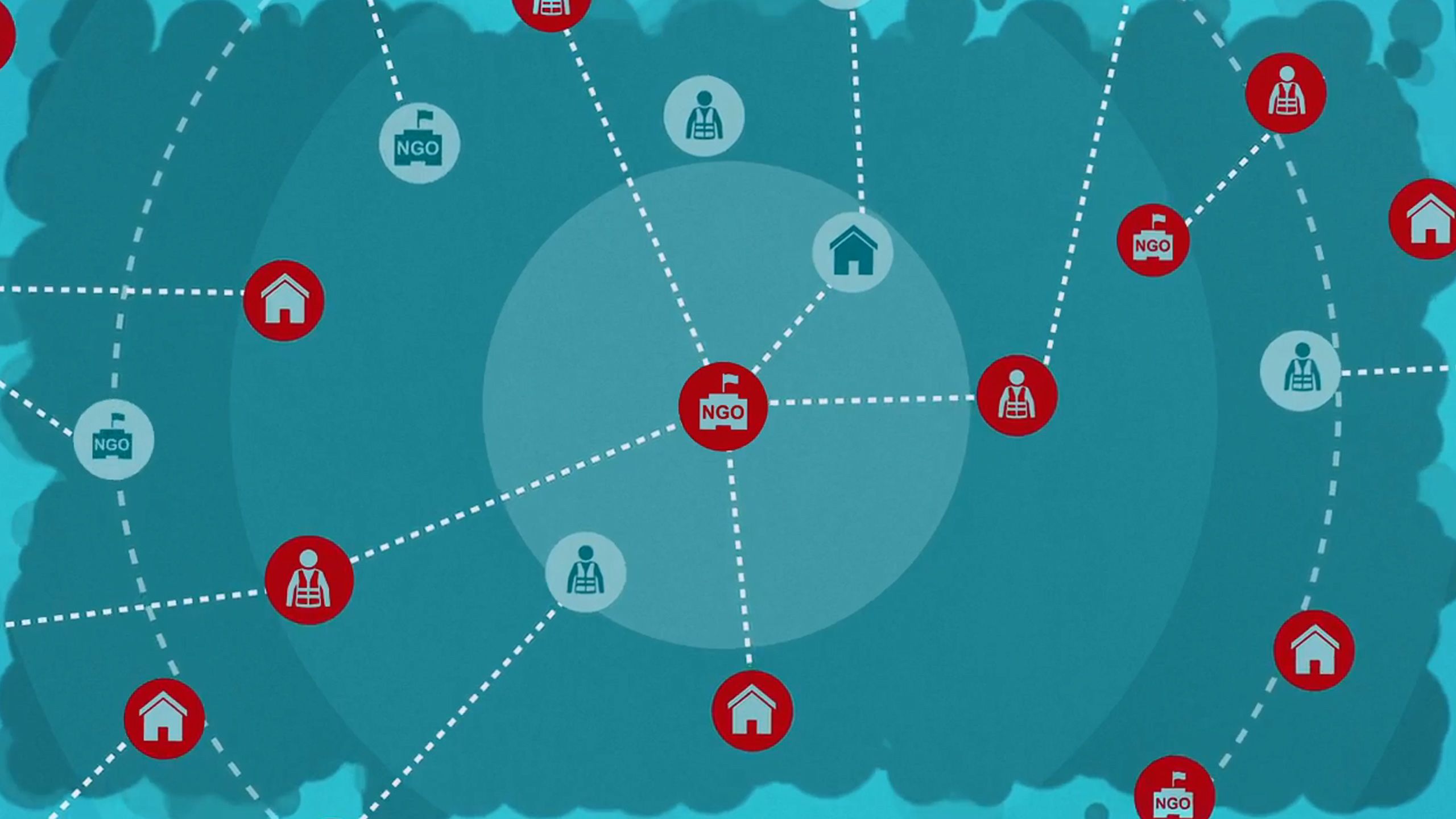 Video created as part of 'Start Evolves' in 2017.
Video created as part of 'Start Evolves' in 2017.
1. Network growth and decentralisation
In 2017 our members agreed on a strategy to take our ways of working to scale, and shift more power and resources to those closest to humanitarian crises. To achieve this, the Start Network will change its model - shifting from a centralised entity to a dispersed, international network of regional and national collectives of organisations, called "hubs".

2. Spin-off and organisational independence
Currently the Start Network is hosted by Save the Children UK (SCUK), which provides the systems that enable the Start Network to operate.
We now need to become an independent organisation in order to:
Have a clear and independent identity
Be better placed to drive the evolution and growth of the network
Increase the level and range of our donor base
We are working towards creating an independent charity, which will deliver core functions in support of the wider Start Network members and the grant-funded programmes being managed by members under our brand.
3. Tiered due diligence framework
As part of our Grand Bargain commitment for greater localisation of humanitarian aid delivery, we must break down the barriers created by existing vetting systems. Current due diligence systems are duplicative and often favour INGOs as potential fund recipients at the expense of smaller organisations, because they are better able to meet donor requirements.
Start Network's own due diligence system is robust, yet it's high bar is a barrier to local and national organisations. To address this, we are planning to build a global tiered due diligence database, providing a standardised vetting process that can be tailored to context. The tiers will enable smaller organisation to pass at a lower level and capacity building will help organisations move up the tiers.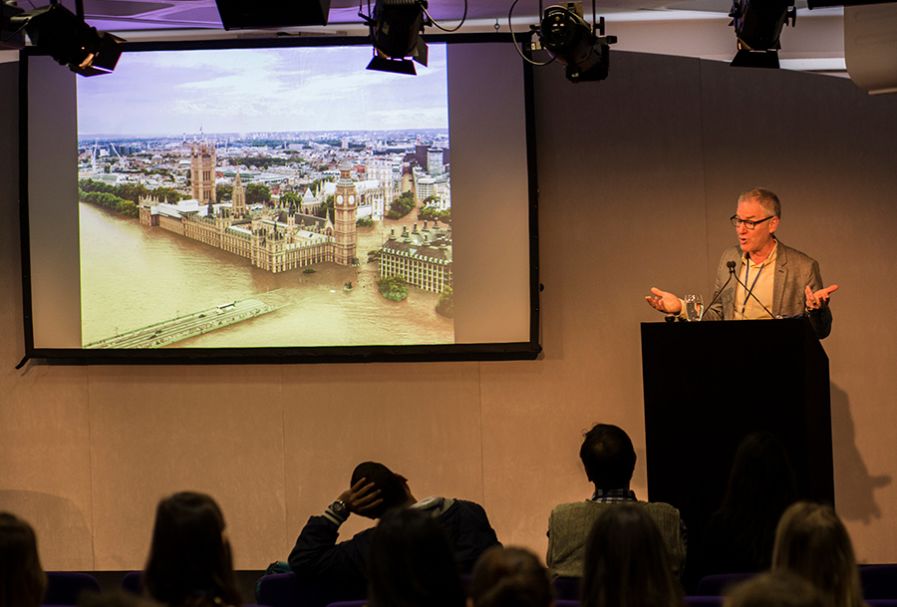 ---
Governance, Leadership and Management
The Start Network operates as a consortium and is accountable primarily to its membership. It is built upon the principle of delegated authority: decisions are made by the Start Network alone and not by our donors.
This means decisions are collective, strategic and de-politicised. The governance structure is designed to ensure rigour and impartiality in decision making.
Save the Children UK (SCUK), one of the network's members, is the host organisation and the lead agency of the Start Network Consortium - and is therefore legally responsible for Start Network.
The Start Network is governed by its Board of Trustees, taking its steer from the membership, which is represented by the Assembly - the Network's highest governing body. The Board of Trustees is made up of a mix of independent experts and representatives of Network member agencies.
Make-up of the Board (as at July 2018):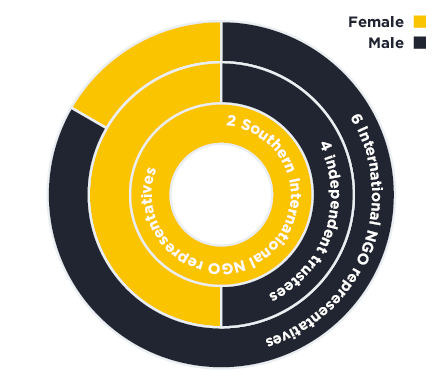 6 International NGO representatives (5 men, 1 woman)
2 Southern International NGO representatives (2 women)
4 independent trustees (2 women, 2 men)
Safeguarding
The Start Network is committed to delivering the immediate actions needed to improve safeguarding, and also to helping to bring about a more equitable humanitarian system. We will continue to do this by ensuring that our values, policies, culture and resources shift power and accountability in the humanitarian system. As part of our move to independence, we are developing safeguarding policies, and undergoing a thorough review of our due diligence framework to include stronger emphasis on safeguarding.
For more information on our governance, leadership and management, please read the full annual report.
A special thank you goes to all the organisations that make up the Start Network, the 42 members and the hundreds of local, national, academic and private sector partners, and those working on the front-line of humanitarian crises, delivering aid in new and better ways.



READ THE FULL START NETWORK ANNUAL REPORT available in Arabic, English, French & Spanish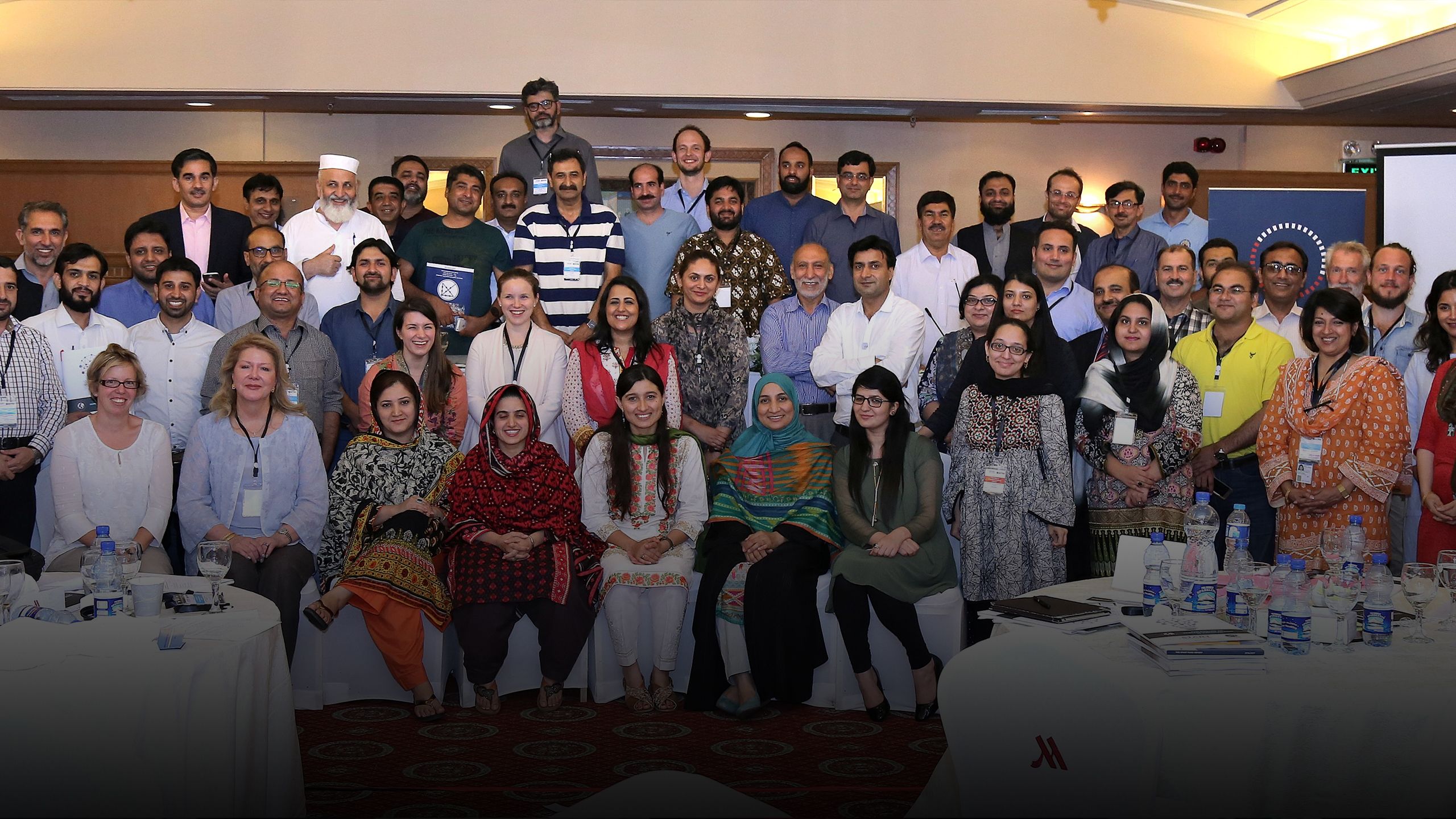 Start Network | The Future of Humanitarian Action in Pakistan 2017
Start Network | The Future of Humanitarian Action in Pakistan 2017