COVID-19: How HELP Foundation assisted those most vulnerable in Pakistan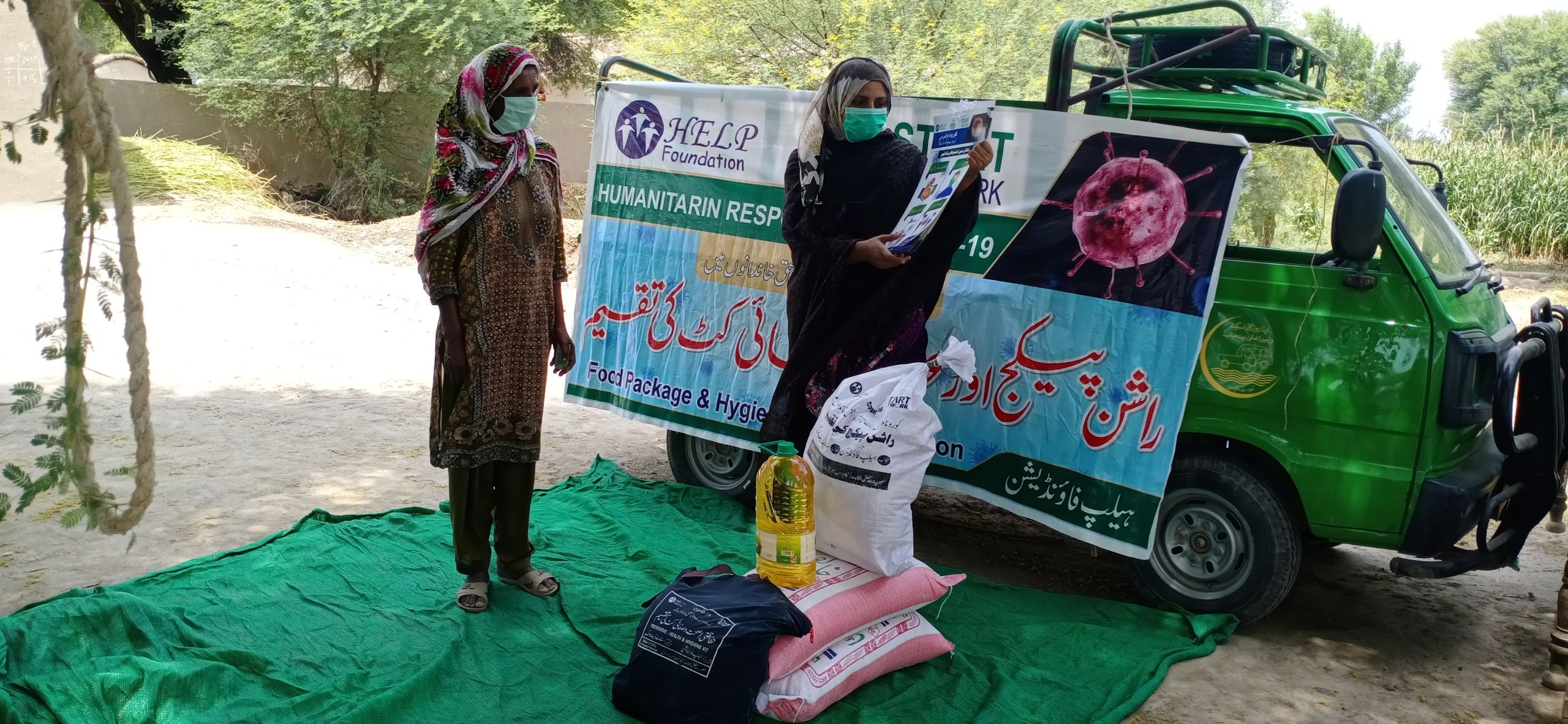 HELP Foundation became a member of Start Network in June, and was recently awarded funds to respond to the COVID-19 crisis in their local area of Pakistan through the support of Avaaz and a private donor.
In addition to awareness raising, HELP Foundation distributed food and hygiene packages to vulnerable families. The food package contained essentials such as flour, sugar, rice, cooking oil, pulses, tea, and iodized salt; and the hygiene kit contained some basic items such as soap, washing powder, and towels. They also included face masks.
In total, 400 households received assistance. In this article, we speak to three of the households to understand what their needs were and what impact the assistance had on their daily lives.
Case study A
"A" is 65 years old and lives with the other 16 members of his family, including his five sons and two daughters, and their own children. A has been suffering from a chronic illness for nearly 40 years and the family relies on income from two of his sons. One of his sons is a rickshaw driver and other used to work as a labourer on a road construction project. Both lost their income when COVID-19 hit. A explains how this impacted on their livelihood and how the assistance helped them through this difficult time. He also provides some positive feedback on the staff working at HELP Foundation.
In A's words:
Translated into English from the original Saraiki, the local language of this community
"We are extremely poor people and daily wage earners. Corona has hit us very hard as it has halted almost every activity, and poor people especially have nowhere to go in this time of difficulty. My son who was working on the road construction is now sitting home idle. The work on the road has stopped, and he can't earn anything because of this virus. My other son drives a borrowed rickshaw and gives PKR 200 [≈ 1 GBP] to the owner of the rickshaw on a daily basis. When the Corona hit, there was a ban on driving rickshaws and the police caught him on the road and confiscated his rickshaw for a week. It was a very difficult time for the family as the owner was demanding money earned from the rickshaw on a daily basis and there was no money coming from the rickshaw. He used to come to our home daily to demand the money. The police finally released the rickshaw after a week, but my son is not allowed to drive it, so he also sits at home idle. We had some help from one of the community leaders who gave us 80kg of wheat and this helped us survive through the tough times….We were delighted with the quality of the food items in the assistance package that we received [from HELP]. This came at a time when our household income was disrupted, and we have sincere love and respect for the organisation and people who as helped us in our time of need…The staff were very kind to old people and asked us not to stand in the queue but to wait outside the office. When they brought the package to me and saw that I could not lift it by myself they dropped it at my home. They have been very kind and supportive."
Original Saraiki:
"Asaan baun ghareeb loug haan, tey dehari daar mazdorr haan. Corona sakoon baun ziada mutasir keta vey ku k har shae ruk gae haey, tey ghareebaan koloun koi jhaa ko ni is mushkl wiqt ich. Meda beta road banda pia hey utha kaam karenda haey, huun oo v ghr betha hey. Uthan road tay kam ruk gia haey, tey hun oo kuj ni kama skda is virus di wajah tun. Meda doojah putar thekay tay rickshaw chalenda hae, tey malik kun rooz day PKR 200 (≈1 GBP) dewnay pounday han. Corona di wajah tun pabandi hae rickshaw chalawan tey. Police mery betay da rickshaw nap k ghin gae haey, tey ik hafta thanay ich band rakh k rakha hae. Aey bahun mushkl waqat hae saday khandan tay, q k rickshaw da malik rooz paisay mangda haey aa k, tey rickshaw tun koi raqam v nai aandi pae hae unha diharaan ich. Rickshaw da malik rooz aanda haey ghr paisay da taqaza karan aastay. Police ik haftay baad rickshaw chor dita haey, lekin mery putar kun chalawan di ijazat kae na mili hae tey oo ghr betha riya hae isi wjah tun. Ilaqay dey ik wadkey saku ik man gandum diti hae jis sakoun bahun madad diti hae een aukhay waqat ich… Sakoun jo aen imdad ich khawan di shayan milya hin HELP di tarfoun, oundy mayar tun asaan bht khush tay mutmain haan. Aey imdad blkl us waqt tey mili hae jadaan saday ghr di aamdni ruk gae hae, tey isi wjah tun assan dey dil ich baun ziada piar tey muhababt hey is idaray (HELP) tey inha loukan day aastay jinha nay sadi madad keti haye is muhskl waqat ich… Jerha uthan loug hin amlay dey, unhan bahoun izzat aala rawaya rakha haey bazurgaan naal aur saako aa k aakha k tusan aen lambi line ich na kharawo, bahar behh wanjoun jaa k. Oo log imdad baahar ghin k aey saday koul, tey jadhaan unha dekha k asaan oo nai cha sakday imdad wazan di wajan toun tey wo imdad aap jaa k meday ghr taen choran aa gaey. Unhan logan saday naal baun muahabat da rawaya rakha, tey sadi bahoun madad v keti."
Case study M
"M" (M is transgender who prefers to call himself a male and uses the masculine pronoun) is 29 years old and lives with his family of twelve members. He is father of four children, and he and his father are the only two breadwinners (rozi kamanay walay) for the family. His father earns a daily wage as a labourer and M works as a dancer in wedding functions, local events and festivals. Since COVID-19, they have both struggled to find work. M and his family received the food and hygiene package before the month of Muharram (corresponding European calendar month is August) and reported back that this assistance reached him when his family really needed it most.
In M's words
Translated into English from the original Urdu
"Before the virus hit, I was very happy as there were so many events and functions being organized by people. I was earning money and the family had no financial difficulties. When the virus hit, the government banned the events, so everything has become quite difficult as I have no alternative source of income. During the COVID-19 restrictions, I had to borrow money from many people to ensure the survival of the family, and now the lenders are asking for the money back, but I don't have anything to pay them as I can't earn any money these days. My father has also been jobless too for about one and a half months as the construction activities stopped…Since the schools have been closed and there have been no educational expenses to pay for my children and siblings, this has helped a little to manage the family expenses in such trying times. Although the virus has receded a bit, and relaxations are being given, the local festivities have not resumed yet. There are fewer public gatherings at this time of the year and no melas [local fairs] in the month of Muharram and Safar [the names of two Islamic months]. These should resume in Rabi-ul-Awal [name of Islamic month] and I have given this date to the people who lent me money. After the fairs resume in Rabi-ul-Awal, I will be able to pay back this money and the family will be happy again…For a poor person, who earns around Rs 500 (five hundreds rupees) (2.3 GBP) on a daily basis, this assistance package worth more than Rs 8,000 meant a lot and created ease for the family. We don't have any bank balance, business, land, or any other source of income and that is why this assistance has helped us a lot."
Original Urdu:
"Is virus say pehlay mein buht khush tha ku k bht ziada functions aur melay hotay thay. Me achay paisay kama rha tha, aur khandan ko koi muashi mushkilaat ni then. Jab virus aya, hakoomat nay sb melon, functions par pabandi lagadi jiski wjah say sb bht mushkl hogya ku q mera koi aur zariya nai tha kamanay ka. Corona k duraan, apni aur apnay khandan ki zaroriat pura krnay k liey mjy logoun say udhar lena para. Ab wo log apnay paisay wapis mangtay han, lekin mery pas paisay ni han, ku k meray pas koi kaam nai ha jahan say me kamoun paisay. Meray walid sahib bhi koi dherh (1.5) mahinay say bey-roozgar han q k tameerat ka kaam ruka hua ha… School band han jiski wajah say bachon k taleem k akhrajat nai han ajkal. Iski wajah say thori buht bachat hogae ha is mushkl waqat me aur khandan k akhrajat me madad hue ha. Ab jab kay virus thora kam hua ha aur hakoomat bhi sakhtiyaan kam krrae ha magar phr b ye melay aur functions shuru ni huey abhi tak. Is waqat bhi bht kam functions hotay han, aur Muharram aur Safar k mahinoon me koi aesay melay ni hotay blkl b. Ye ab Rabi-ul-Awal me shuru hon gey, isiliey me nay logo ko us mahinay ki date di ha k me paisay us mahinay me dun ga. Jb ye melay shuru ho gaen gey dubara, me udhar wapis krnay k qabil ho jaon ga, aur hamara khandan dubara khush hojaey ga…Ik ghareeb aadmi jo din ka sirf PKR 500 (2.3 GBP) kamata, usko ye PKR 8000 (38 GBP) ki imdad milna bht bari bat hai, aur isnay meray khandan k liey bht asani paida ki. Hamaray pas koi bank balance, zameen, aur koi aur zaraye-amdan ni ha, aur isi wajah say is imdad nay bht madad ki hamari."
Case study S
"S" is in her late 30s and a mother of six children. She is a domestic worker who shares the responsibility of providing a family income with her husband to ensure that their children go to school. S explained that things were difficult before the crisis, but life became even more challenging once the virus hit. Since the government had imposed a lockdown and people were not letting others visit their homes, her work and therefore her income, had come to a halt. Similarly, her husband had also stopped working as all construction had been stopped during the virus. S's son who sat in on the interview, mentioned the positive actions that HELP Foundation and other NGOs provided by creating awareness among the communities about how the virus spread and what safety measures should be taken, and how communities and NGOs can work together to build resilience.
In S's words
Translated into English from the original Saraiki, the local language of this community
"We live as a family of eight members in a single room with no certainty of a meal. Sometimes there is only enough for one meal a day. We face this with patience. My daily life revolves around the struggle for my family. In the first half of a day, I work in other peoples' homes as a domestic worker, and for the rest of the day, I am busy with my children…We were facing hunger and had to ask other people for help to survive. Sometimes we had nothing to eat, and no one came to help us. The assistance provided [by HELP] covered all the things we needed and helped us in the best possible way as we had no money to buy the ration itself."
Original Saraiki:
"Assan 8 logaan da khandaan hain, tey hikka kamray ich rehndy haan. Sakoun koi pata ni hounda k aglay waqat di roti kitun aasi. Aksar taan bus deen ich hikk waqat di roti houndi hey. Assan eeko sabr naal guzar daey haan bs. Mera pura deen sb apna bachan dey aastay guzar wenda hey. Sbha dey waqat me lokaan day ghr ich kaam karein de haan, aur baqi sara waqat ghr ich bachan nal guzar weinda hey. …Assan bus bhook nal larday kharay haa say, tey sakoun dojay lokaan ko aakhna pounda hae madad ketay. Aksar saday koul khawan kety , kae shaey na houndi haey, tey koi aanda vee nah ae madad ketay. Jeri imdad mili hae saku HELP di tarfoun, us ich zarort di sari shayan hin, tey oo saday bahoun kaam ae ku k saday koul paisay ta hin kou naa bazar ichon ration khaareedan aastay."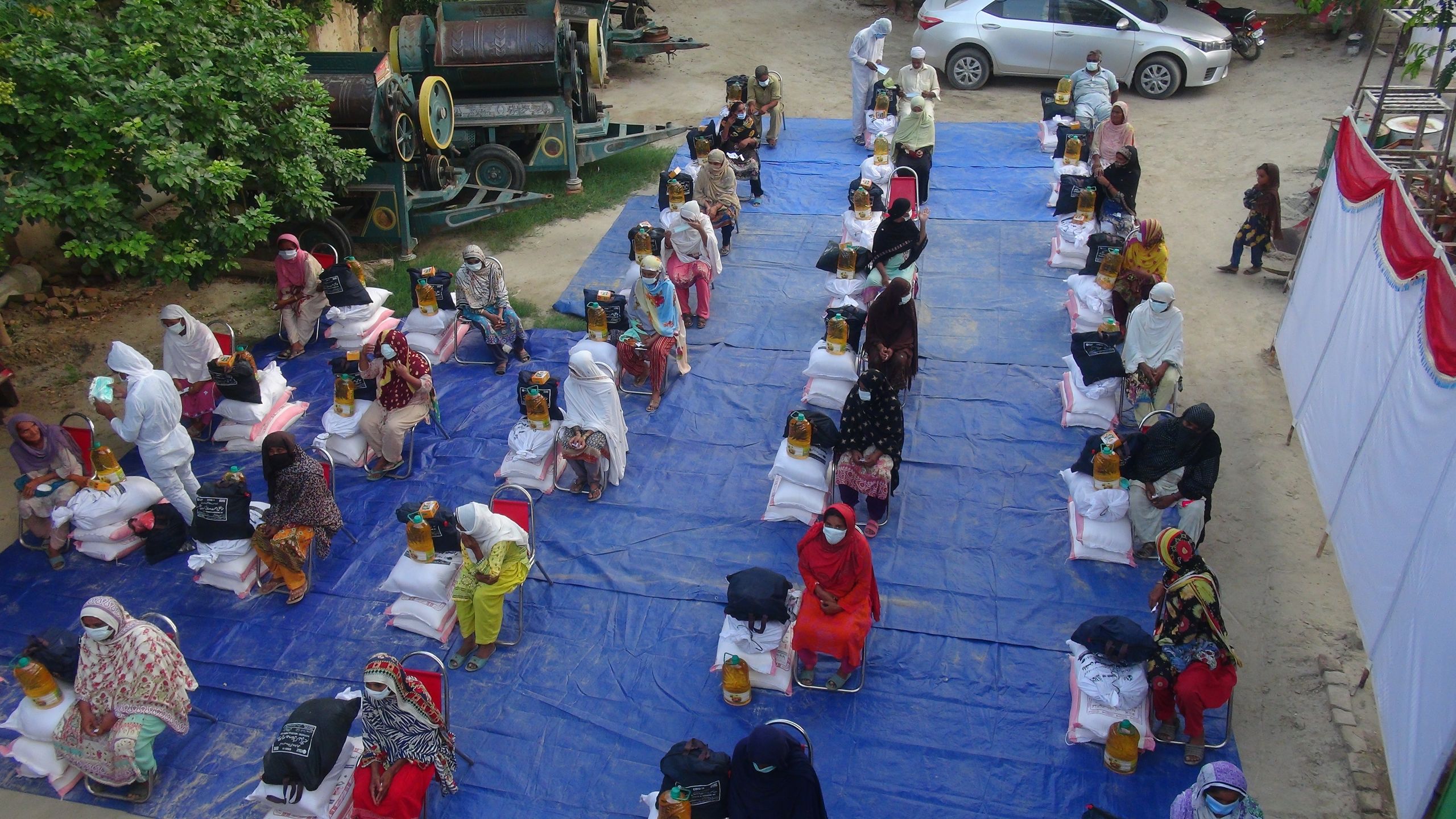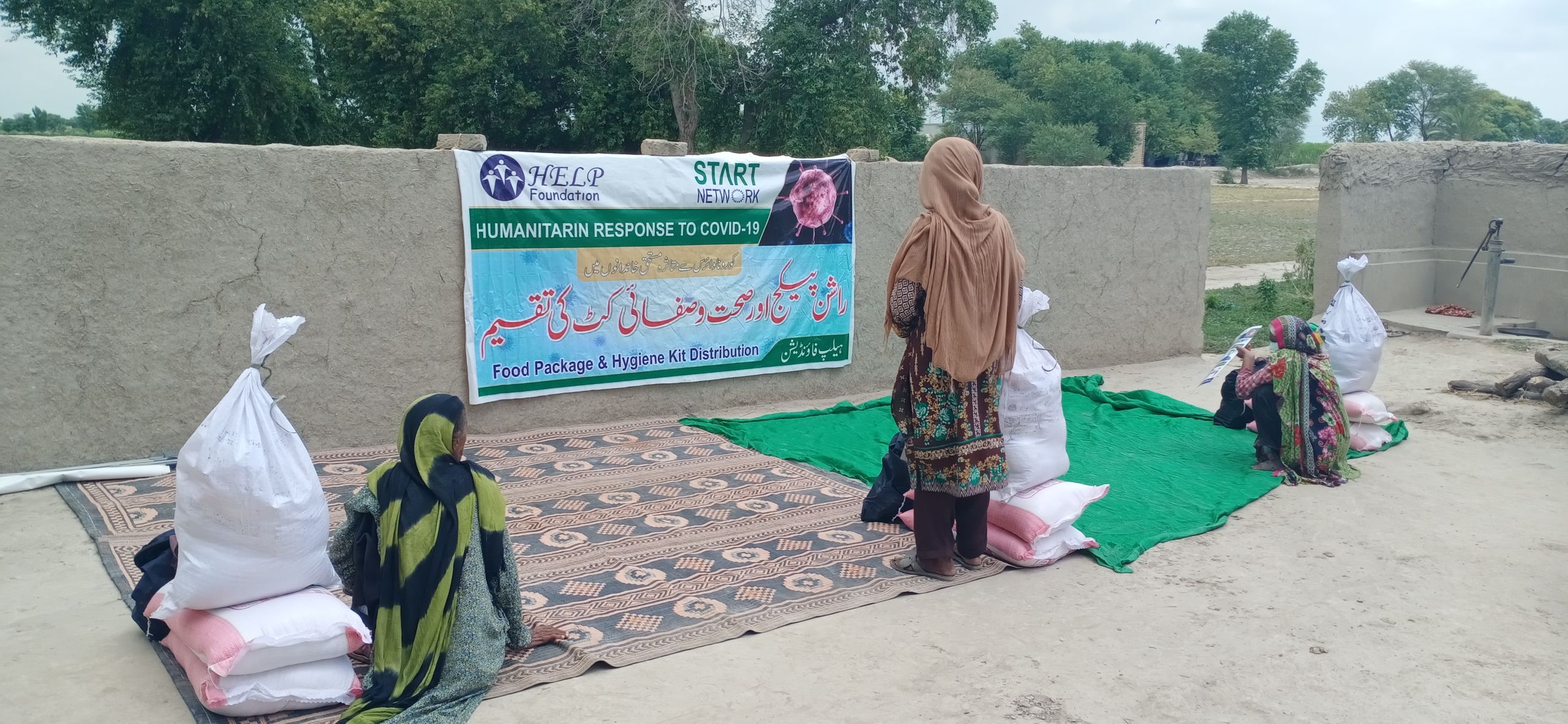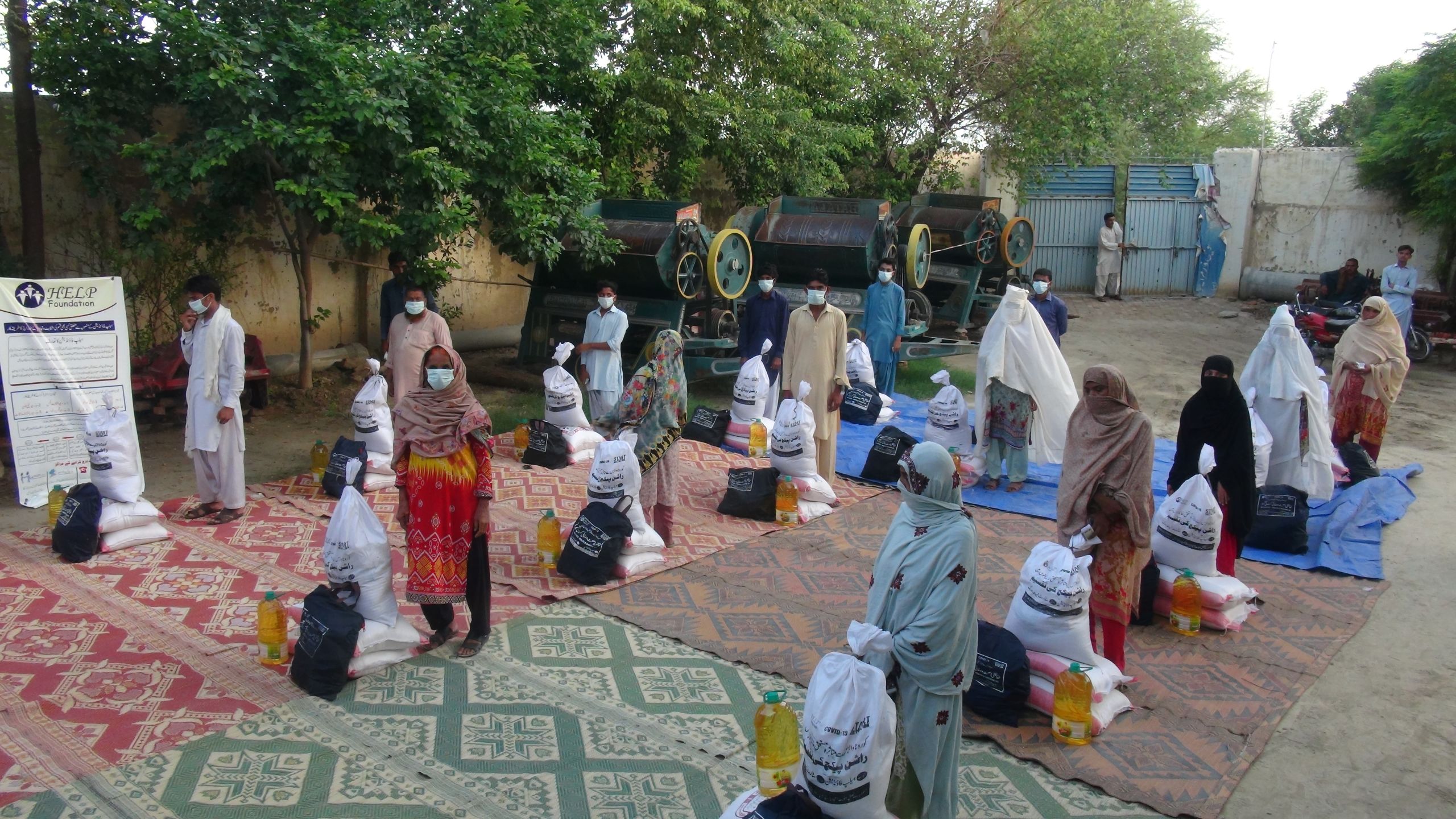 "People were told that they should avoid shaking hands and practice social distancing of five feet. Communities can help in building the resistance to this crisis by coordinating and working with local NGOs that are active in their areas." -S's son
In Saraiki:
Loukaan ko haath milawan tu mana kita gaya hae, aur unha ko aakhaya hae k aapas ich panch fut da fasla rakho. Ilaqay dey loug ilaqae NGOs day nal ta-awun tey kaam kar k is afaat ka muqabla kar skdy hin.
-S's son
The people targeted by HELP Foundation were the most vulnerable, daily wage earners who had lost the opportunities to provide for their families during the COVID-19 lockdowns and restrictions. As explained by Jamshaid Farid Soomro, President of HELP Foundation:
"The lockdown and recession had significantly reduced work opportunities for daily wage earners and labourers in this region. Although fruit and vegetable markets remained open, many daily workers faced reduced hours or no work at all. Because they had no income, they could not take the COVID-19 preventive measures which required purchasing soap and masks. Their earning has been steadily reducing since COVID-19 started to spread and at the time we went in with assistance, their reduced income had severely impacted on their access to food with families reducing meals from three times to just two per day."
The Evidence and Learning team at Start Network are working alongside local consultants to capture the impact and learning around our crisis responses. Thanks goes to Saeed and his team at GLOW consultants for bringing us these stories from some of the communities receiving assistance in Pakistan. All pictures were kindly provided by HELP Foundation.