Start Fund Bangladesh:
COVID-19 Chapter
Using local membership strength of a pooled funding mechanism to extend humanitarian support during a pandemic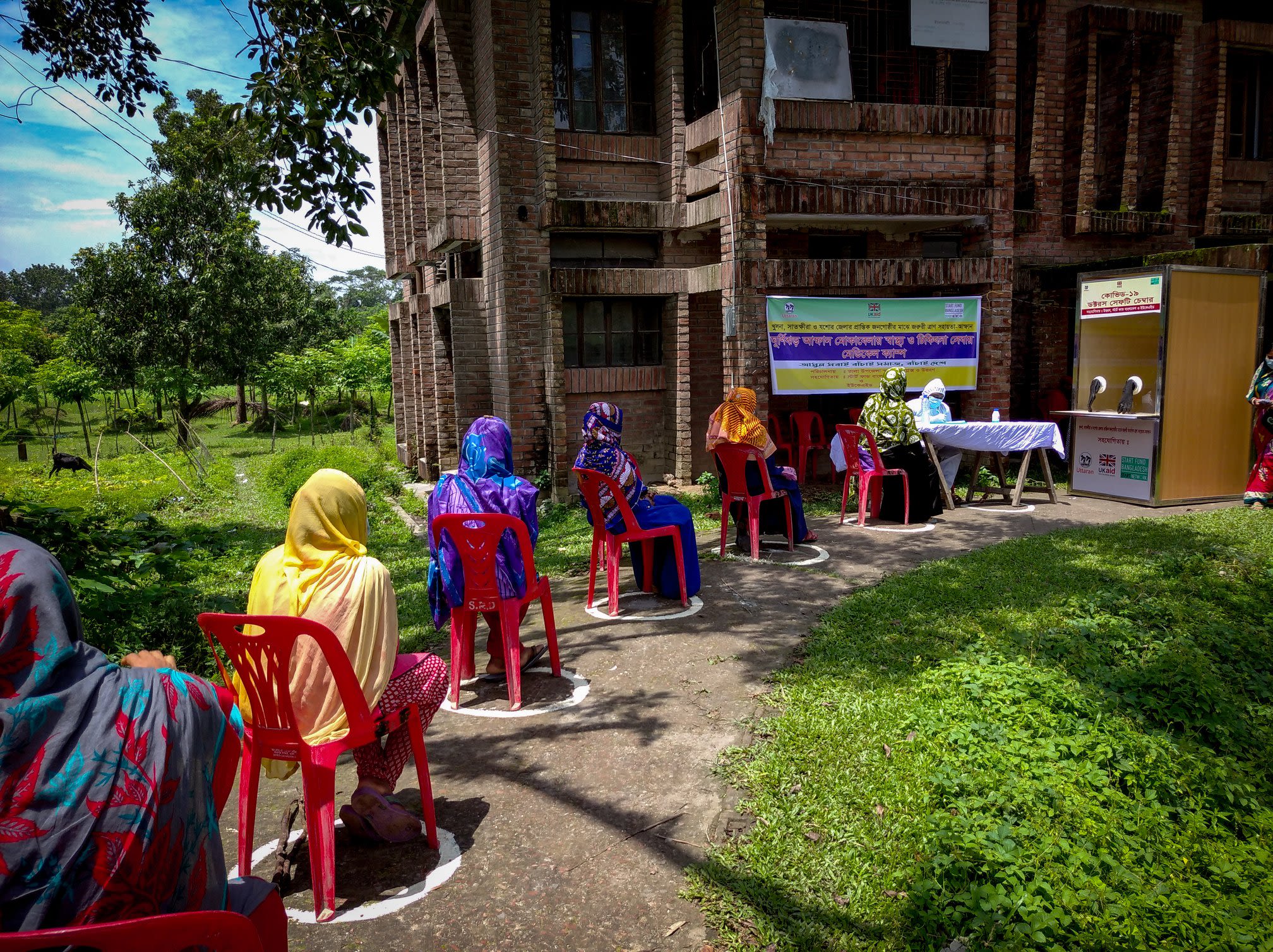 The first allocation for COVID-19 under Start Fund Bangladesh was made on 27 March, a day after the country went into lockdown and nine days after the country reported its first death from the disease. Soon after, the second allocation was made on 31 March.
Disbursing a total amount of around £550k, the fund was able to reach around 4 million people from the most vulnerable communities of 23 districts - sensitising them on the immediate change of behaviour and practices needed to prevent infection, and increasing their access to facilities that were otherwise vital for protection against and treatment of a COVID-19 infection.
Interestingly, all nine awarded agencies were national and local member organisations of Start Fund Bangladesh, including ESDO, Uttaran, Dushtha Shasthya Kendra (DSK), VARD, Jago Nari, Shariatpur Development Society, SKS, Ashika Development Associates and Friendship. During the initial stages of the start of the pandemic, INGOs had to take a back seat to observe the situation and consult with their HQs to understand their next course of action. However, most INGOs used proportions of their contingency/emergency fund to extend support in locations of their active projects.
---
The 9 awarded projects delivered versatile interventions and generated the first examples of humanitarian action in Bangladesh against this COVID-19 pandemic. Start Fund's interventions fell in 6 types of broad categories.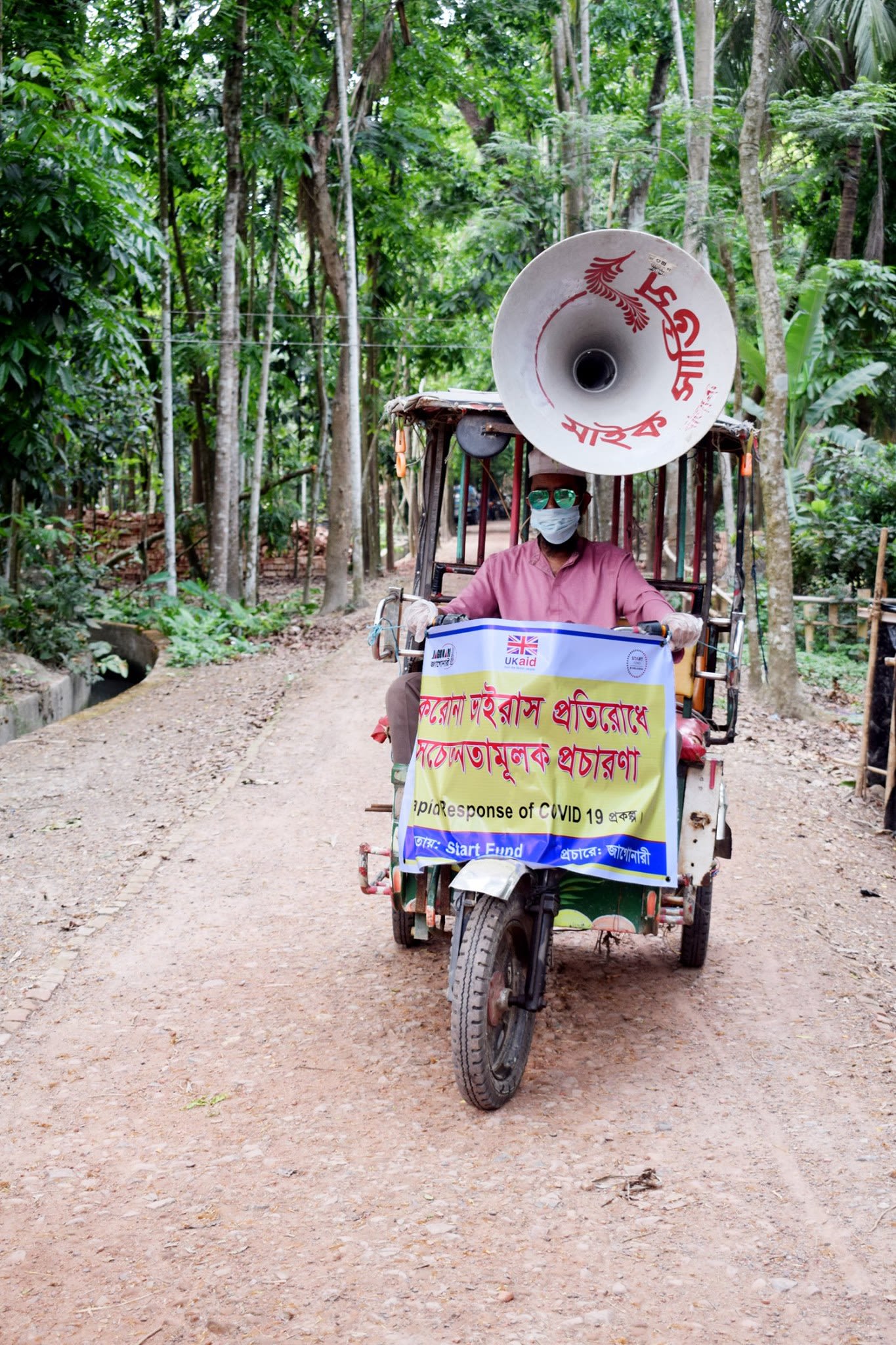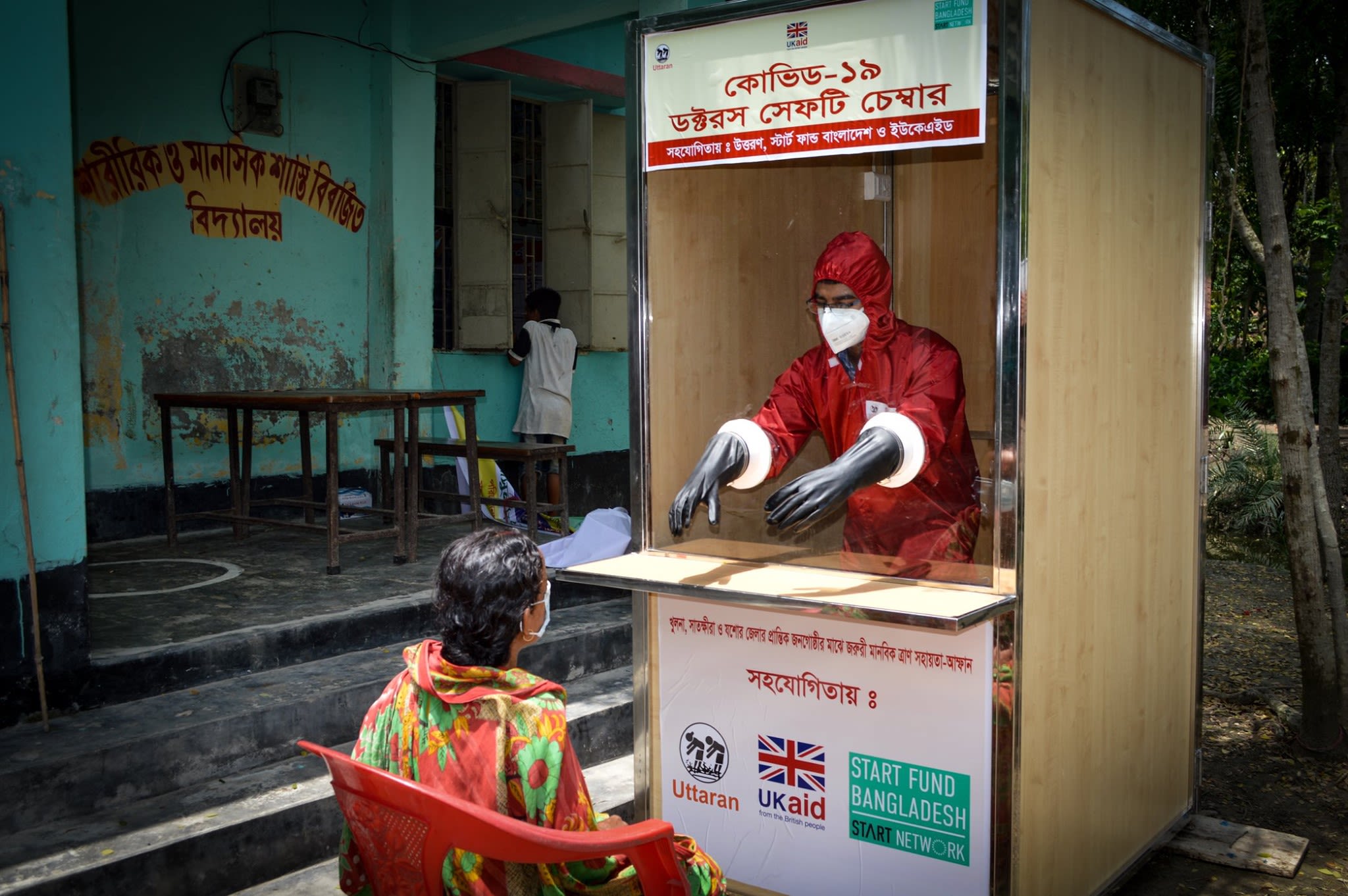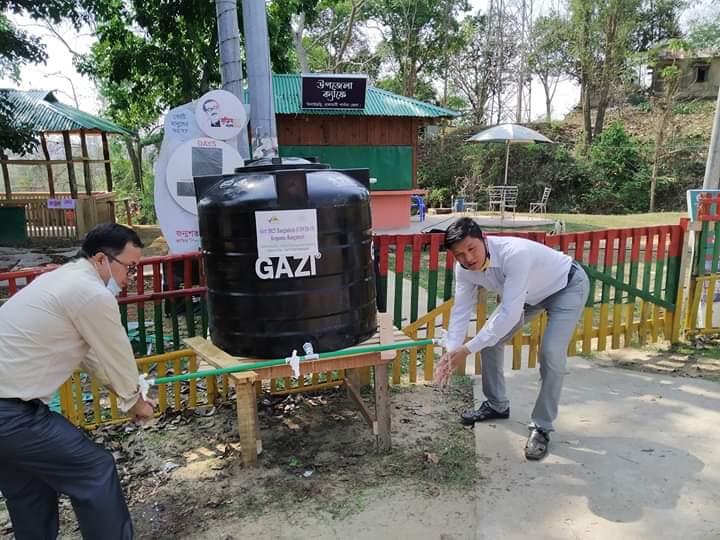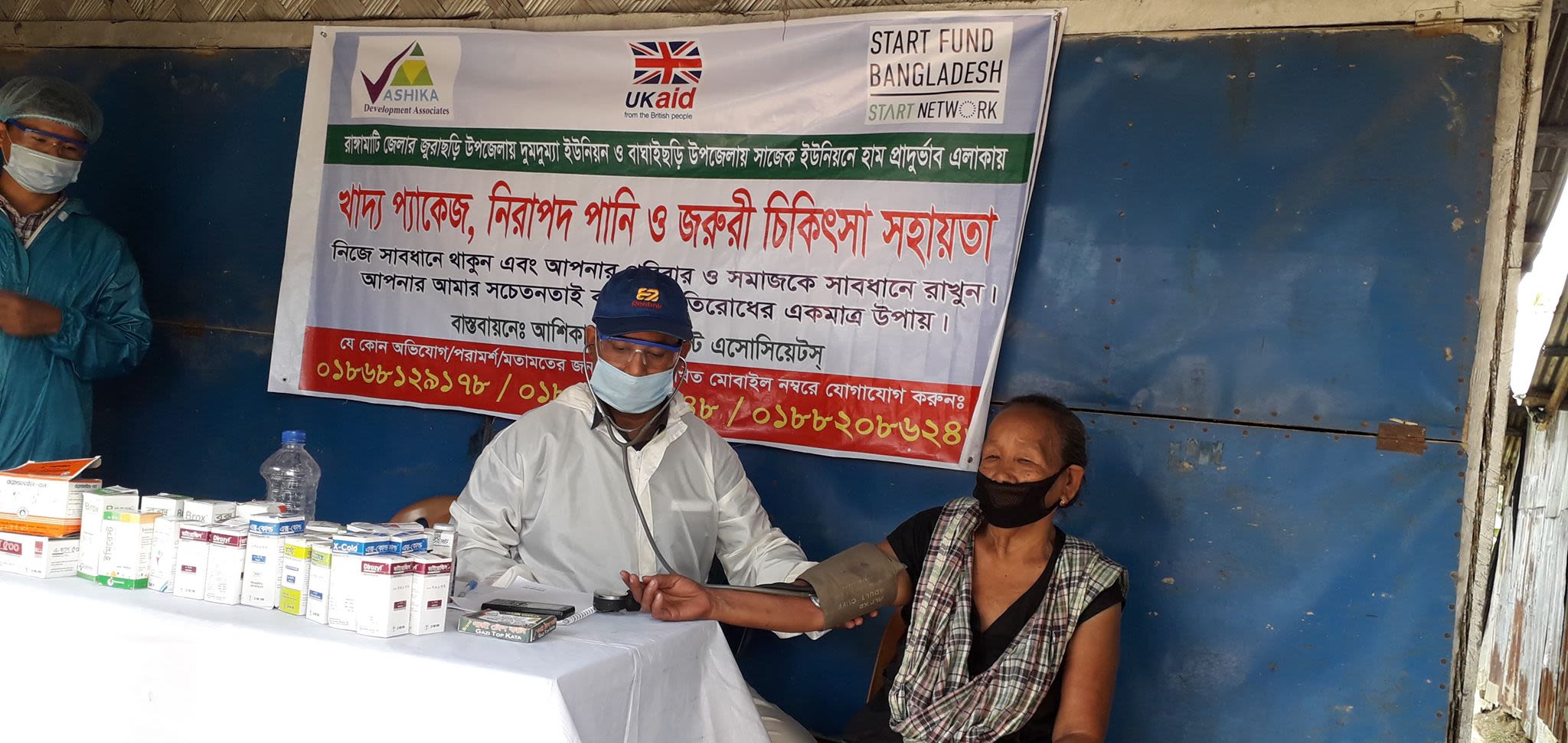 1. Enforce safety standards and protocols for member agencies i.e. their offices, staff, volunteers and participants
Start Fund laid out its own comprehensive Standard Operating Procedures (SOP) in which every aspect of implementation and organisational safety has been taken into consideration. The SOP's first version was made available in early April and until now has been revised repeatedly based on field experiences and the infection's manifestation in the country.
---
2. Wide-scale risk communication using multiple media outlets
To familiarise the right practices for COVID-19 prevention and protection more than 450,000 communication materials were distributed from household to household in remote communities with targeted awareness-raising. Miking in mosques, messages in local radio channels, newspaper and local TV channels were the different media used to telecast COVID-sensitive messaging throughout the project period.

---
3. Increase access to cash, food and WaSH materials for the most vulnerable communities: More than 10,000 hygiene kits were provided with every kit containing masks, bucket, menstrual hygiene items among other items. Additionally, 900 vulnerable households received cash support and more than 550 households received food support as per needs analysis during community consultation.
"We have benefited a lot by getting hygiene kits package from SDS including a bucket, soap, face masks, mug, sanitary napkins, and awareness leaflets. As a result, we do not have to go to the river to wash our hands again and again. I kept the bucket close to my house so that I can use it and other members of my household also can use it"
Sufia Begum from Naria Upazila, Shariatpur district
---
4. Increase access to medical equipment in local health complexes and PPEs for health workers and law enforcement agencies
More than 200 equipment were provided to local health complexes including oxygen cylinders and nebulisers as these were vital for treating COVID-infected severe cases. More than 14,000 PPEs were also distributed among hospital staff and law enforcement agencies engaged with COVID-19.
---
5. Facilitate the formation/reorganisation of localised CSO Networks to increase coordination with government, non-member NGOs and local voluntary groups
12 local level CSO platforms were formed which ensured collective decision making and avoidance of overlap during response.
---
6. Identifying higher vulnerability due to a spike of additional crises
A Nor'wester (an isolated rainfall and thunderstorm often with violent hurricane-speed winds) in Barguna and outbreak of Measles in CHT were two disasters that occurred during the responses to COVID-19. More than 1400 households that were made additionally vulnerable due to these multiple crises were then targeted and accommodated within the response.
Key Stories and Lessons from COVID-19 Responses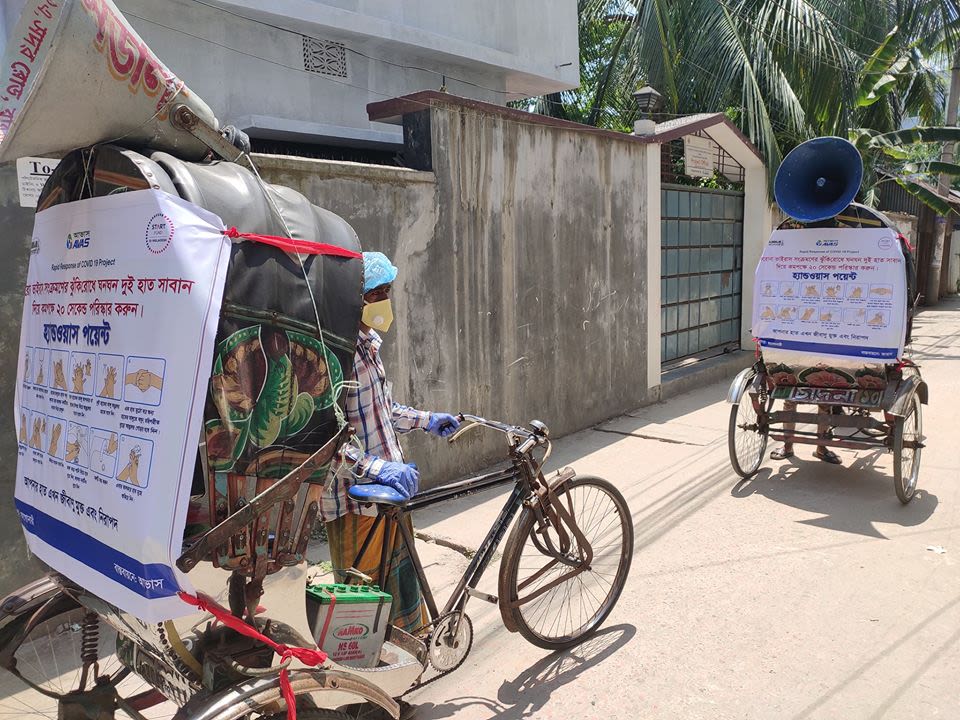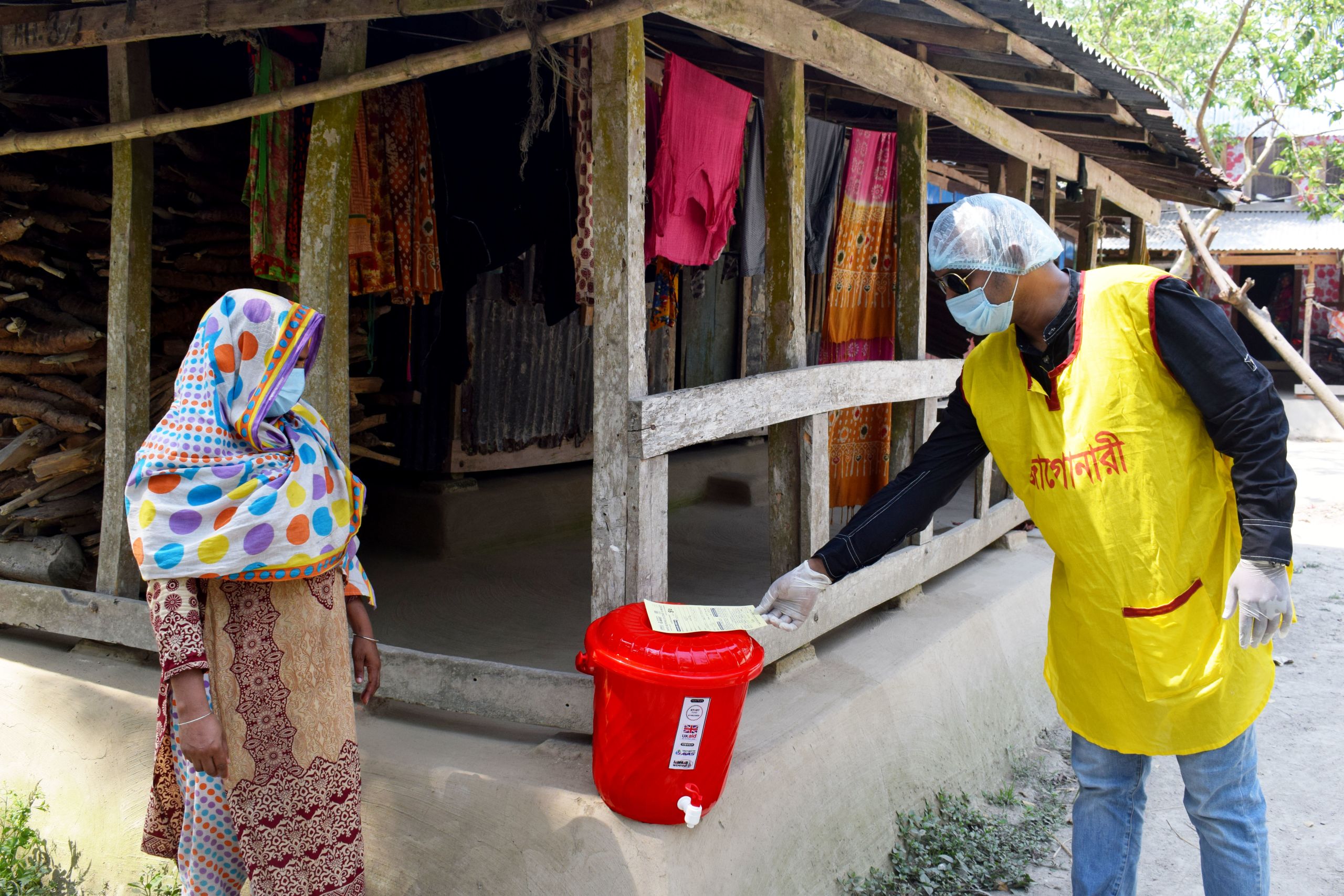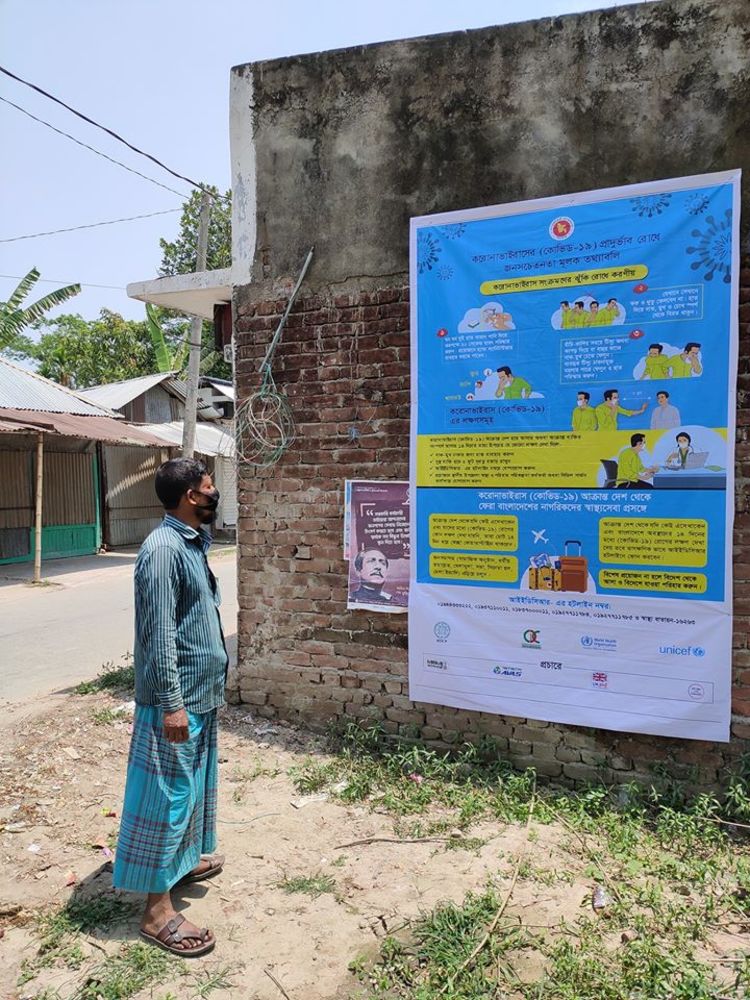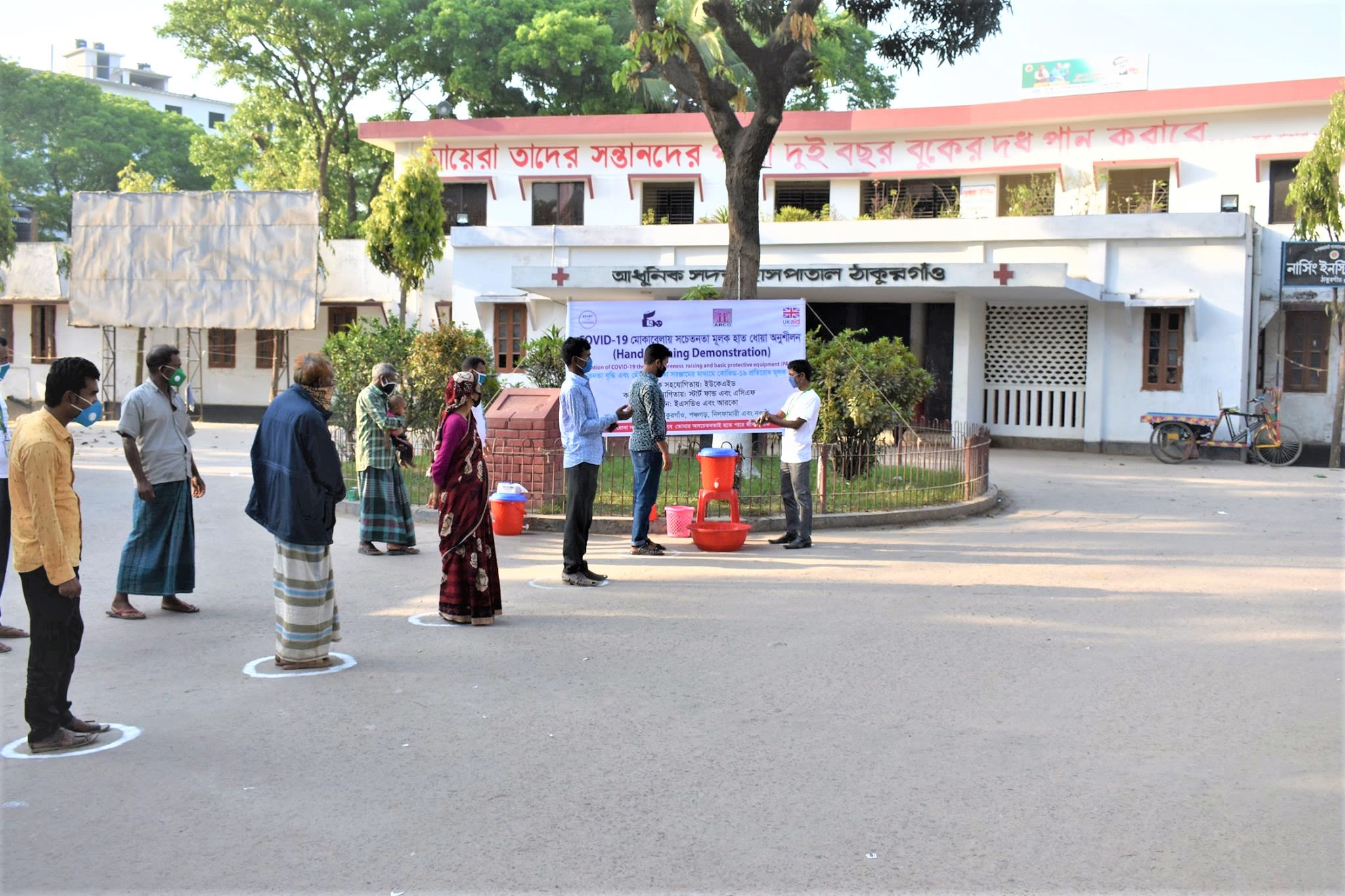 Item 1 of 4