Raising awareness of COVID-19 in Pakistan
Bright Star gets information to the right people at the right time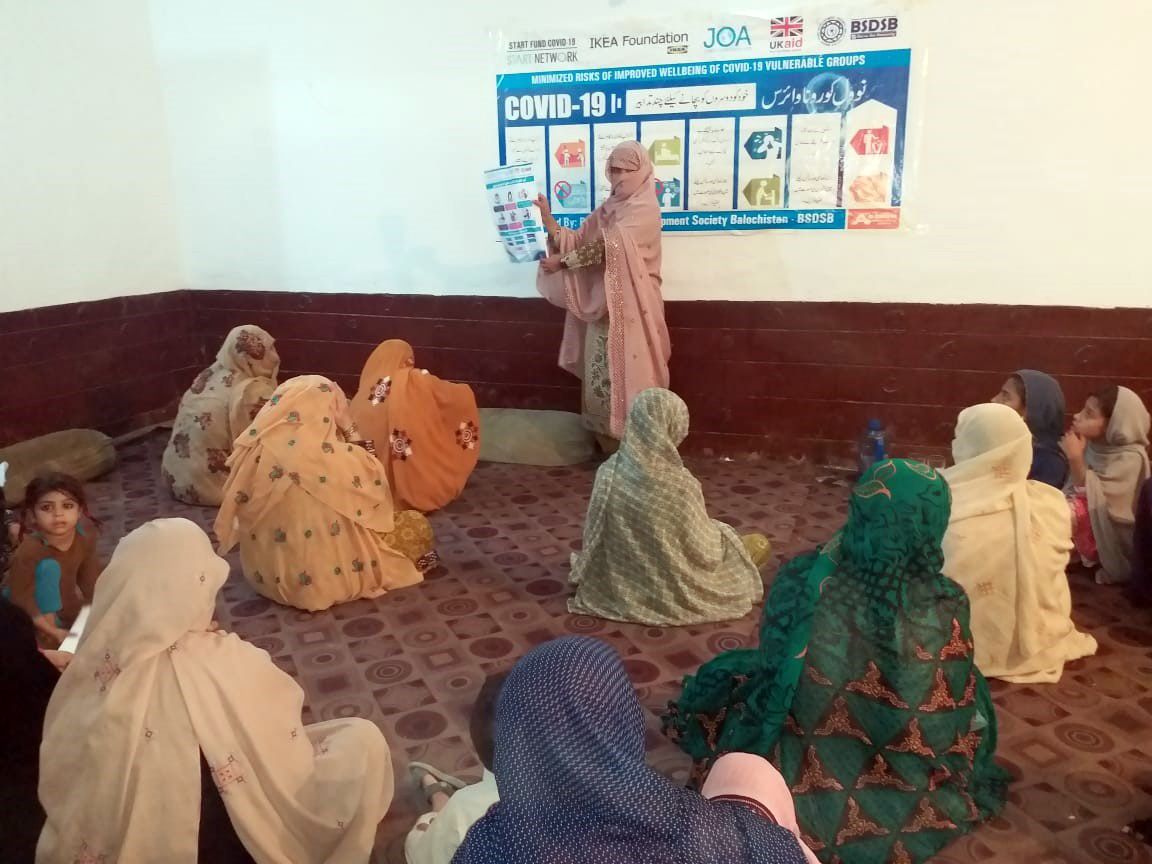 In August 2020, Bright Star Development Society Balochistan (BSDSB) was awarded £30,000 to respond to COVID-19 in their geographical target area of work, Balochistan in Pakistan. In addition to reaching 500 vulnerable families with food and hygiene packages, they also invested in a behaviour messaging campaign that involved displaying banners and distributing posters, leaflets, and stickers amongst the communities and in key public locations. This included 100 banners posted onto Auto Rickshaws, which specifically spoke to how passengers and drivers can keep themselves safe from coronavirus.
As part of an independent evaluation of the project, follow-up calls were made to 120 families targeted with the food and hygiene packages to check on the quality, use, and satisfaction with the assistance. As part of that interview, questions were asked about any behaviour messaging that they may have been exposed to.
Incredibly, all households that we spoke to apart from one had seen or been exposed to behavioural messaging related to COVID-19 that BSDSB had distributed across their community. They mentioned a range of sources, with banners and posters being the most popular, and 39% mentioning they heard from staff at the distribution site about hygiene materials and their use. The respondents mentioned that the main messages were around handwashing, and the importance of wearing masks and social distancing. Of the 119 that had seen the messaging, 46 percent said that this information was new to them with 75% of them mentioning masks specifically, and 40% social distancing. Overall, 37% of those interviewed had changed their behaviour because of the messaging they had received, while 47% were already practicing these behaviour changes.
There were some notable differences in knowledge and behaviour change by gender, with more females reporting that the information was new (55%) compared to their male counterparts (42%). Females were also more likely to change their behaviour as a result of the messaging received (50% compared to 31% of men).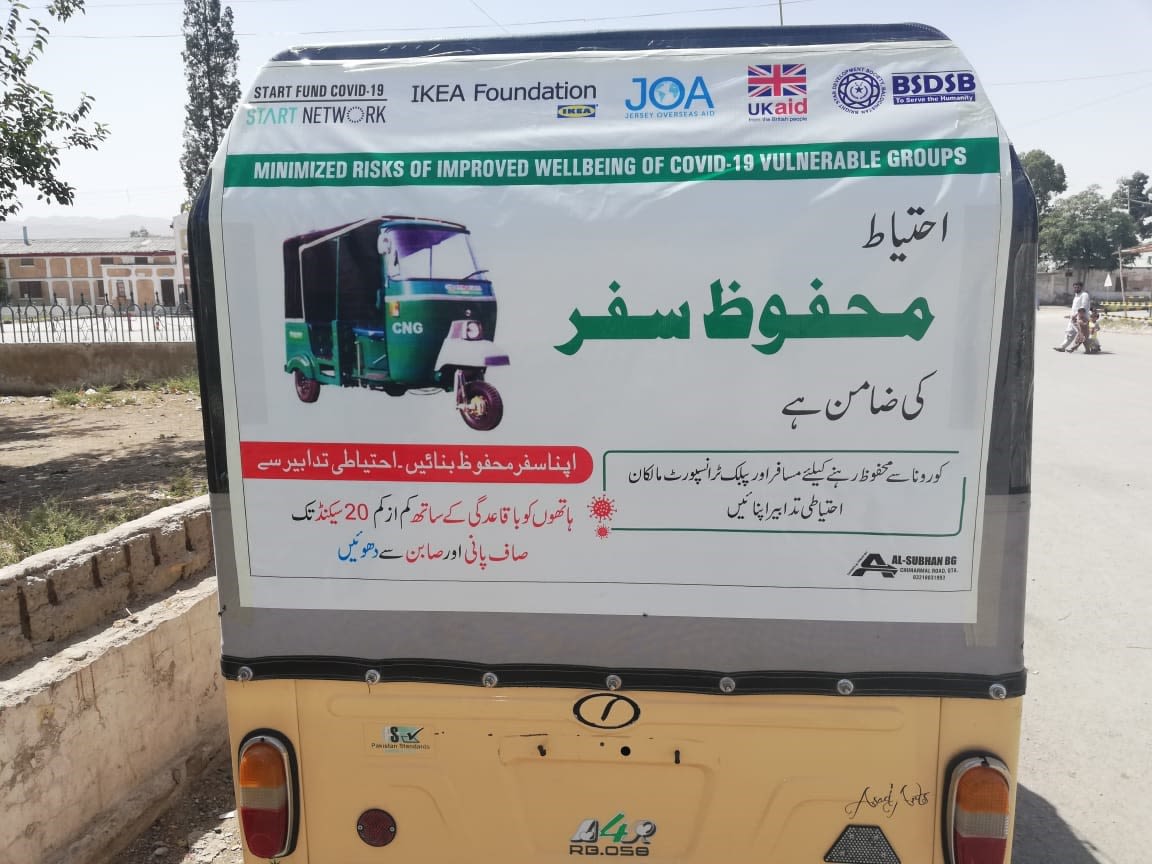 "During this project, accurate information on COVID-19 was shared in the target area. This was the right time and right audience for such an activity. We had seen that communities were stressed and fearful, they were hesitating to visit hospitals for routine check-ups or emergencies. There were rumours that hospitals were trying to inflate the number of COVID-19 cases, even injecting people with lethal substances. There was a lot of misinformation around COVID-19, with some of the affected population self-medicating with dangerous substances. It was important then that we shared best practices related to COVID-19 protection and if you have signs of the coronavirus.
We delivered the behaviour change messages throughout the project activities and displayed and distributed the Information Education and Communication (IEC) material in public places. Messages and banners were also displayed on 100 Auto Rickshaws to further increase community awareness on the disease. This approach proved very effective. The Auto Rickshaws carried local passengers all around the city. People read the information displayed and discussed it with the drivers who had been specifically trained on these key messages. It was the first time we had tried this approach and it worked well with key messages being delivered outside just the project target area."
Naseer Ahmed Channa, Chief Executive of Bright Star Development Society Balochistan (BSDSB), Pakistan
We also spoke with a few households in-depth to understand more about their experience with the behaviour messaging. In our first example, a male resident of Lohr Koraze tells how he heard about the messaging from friends who had been at the distribution site. He himself is not able to read, so the verbal messaging was important in making him aware of the situation. In our second example, a female resident of Killi Kach Baig speaks about the messages she saw at the distribution site and how she is trying to put into place social distancing.
Male resident from Lohr Koraze
"I received numerous COVID-19 awareness messages on my phone, but had to delete them as I couldn't read. The first time I got to know about coronavirus was through a gathering of friends who had heard it on television and from the distribution site. My friends suggested that I take care of myself by taking various preventive measures. These included washing hands with soap repeatedly, wearing masks, and practicing social distancing. After being informed about the virus and the precautionary measures, I started taking good care of myself. I also informed my family members about the virus, and the measures to prevent oneself from contracting the virus. These days, I have developed a habit of wearing a mask when I leave the home for shopping or any other purpose. All of my family members have started wearing masks. During the time when COVID-19 was spreading, no social events were organised in my family in order to avoid the disease. I have lowered my social activities for the time being. It is necessary to take care of oneself in this time of crisis, and it is important to respect the blessing of health. If one is to gauge the importance of health, he should ask a sick person. Health of an individual, although mostly taken for granted, is a blessing that needs to be acknowledged. It is our duty to inform our friends about the need to protect our health in this COVID-19 period and educate them about the means of doing that."
In Urdu: "Mjy mobile phone per bht say messages miltay thay, lekin me unhy delete krdeta that ku k mjy parh nai sakta. Mjy meray doston nay btaya k corona kia ha aur is say kesay bachana ha khud ko. Unko khud TV aur taqseem krne wali jagah se khabar mili. Mjy meray doston nay kaha kay is say bachna hai aur apna bht khayal rakhna hai. Mjy btaya gaya kay saban say achi tarah bar bar sath dhonay hain, mask pehnna hai, aur bahar logon me ja k fasla rakhna ha. Jab mjy in sab baton ka pata chala to me nay in par amal krna shuru kia bht ziada, aur apni hifazat ki. Me nay apnay ghr walon ko bhi btaya k is virus say kesay bachna hai. Me jab bhi bahar jata hun to mask pehnnta hun, jab bhi mjy bahar koi kam ho to mein mask pehn k jata hun. Ghr k baqi log agr bahar jatay hn to mask pehntay hain. Me nay ghr me rehna shuru krdia aur bahar doston k sath bhi ana jana bht kam krdia. Sehat ik nemat hai, hamen iski qadar krni chaey. Ye bht mushkl kam sb lekin bht zarori bhi han k hum ye sb kam kr k apni sehat ki hifazat Karen, jo ik nemat hai."
Female resident from Killi Kach Baig
"When I went to collect the food package from the NGO, I saw messages on posters regarding coronavirus. The NGO staff educated everyone in detail about how harmful coronavirus disease is and how can we protect ourselves from this disease. I saw these messages at the distribution site where I saw some posters and banners, on which precautionary measurements against coronavirus was reflected in words and pictures. I noticed afterward that similar messages were there on school walls as well. The important message was to maintain six feet distance and the message was new to us. We try to sit at a distance at home, which is difficult, but we are trying. We are poor and living in a small house, that is why I said we can only try social distancing at home. When going outside, I instructed all my family members not to shake hands and to try to keep some space between them while meeting someone. I find the masks, soap, and sanitiser very helpful because we heard news of deaths from coronavirus disease. However, by keeping social distancing and washing hands with soap, I kept my family safe from coronavirus disease. I was concerned about it as there were many people in Pakistan who died because of this lethal disease."
In Urdu: "Jab mee NGO see khurak laani gaii, wahan posters aur banners pe ilfaz aur tasveeron k zariyay se Corona k mutaliq kch malomat thi. Wahan staff ne sb ko btaya k corona kitna khatarnak hai aur kis trha phailta hai. Unhn ne rashan k sath kch saman diya tha jis mein mask ka dabba, sabun aur sanitizer thay jo hm rozana istemal kr rhay hain. Mje andaza hua k mene ye malomat diwaron pr b daikhi thi jaisay ghar ki diwarain aur school ki. In saab tamam malomat mein sb se eham ye tha jo k meray liye naye baat b thi k 6 feet ka fasla darmayan mee rkhna hai –hmara ghar chota hai aur log zyada hain lakin phr b hm faslay pe baithtay hain ta k bacahy rhain. hm sabun se bar bar hath dhotay hain aur bachon ko b dhulatay hain ta k wo b bachay rhain-ghar se bahar jatay hain tw mask b phehantay hain- isi trha se hm khud ko saaf b rkh skain gy aur bemari se bachay b rhain gy jaisa k ye sunnat b hai. Mein iss k mutaliq pehlay se he bht fikarmand thi qk is ski wjah se Pakistan mein bht se logon ki amwaat hui aur jaisay k ye muhlik bemari hai tw is ki wjah se mje bht dar lgta hai."
---
Some of the residents we spoke in-depth with also made suggestions of how the messaging campaign could be improved. One female resident from a large household of 15 members in Lohr Karaze suggested that they print out leaflets or pamphlets that could be shared around the community. This was an activity by BSDSB, but as only 4% of those interviewed remembered seeing these, this activity warrants expansion. She also suggested putting banners and posters in the villages and not only in the main centre of the town. A similar suggestion came from a male rickshaw driver from Killi Qambrani who said that banners at marketplaces would also help spread awareness for those who are less mobile, though he also thought that the idea of displaying banners on rickshaws was an effective way to spread awareness.
Female resident from Lohr Karaze
"I went to the distribution site near the hospital to receive my food package and the NGO staff shared information about COVID-19. They told me about the disease and the precautionary measures. They said that there is no medicine for this disease in the world. The only way to keep ourselves protected from this is to take some precautionary measures. The staff told me to wear a mask whenever you go outside, wear gloves, wash hands for 20 seconds with soap, use sanitisers if you don't have soap, keep a distance of six feet from each other and avoid going to gatherings. I had heard about coronavirus from different people, but I came to know the details of coronavirus from the NGO staff. I was not practicing anything before, but after that session I strictly followed all the guidelines. I instructed everyone at home to wash hands regularly, wear masks, use sanitisers and keep social distancing. I have kept one sanitiser with me and whenever I go outside with the children, I sanitise their hands because they touch different things. Although there were three cases of coronavirus in our neighbourhood, my whole family is safe till now because we are following all the precautionary measures. My sister was planning for her son's wedding, but I told her about coronavirus and she postponed the wedding. Now in our area, not only me but other people are also following all the precautions because life is important for everyone. The messages the NGO provided were excellent, but it would be more effective if they printed it on leaflets and distributed them in the whole community. I would also recommend that they provide these banners in the villages as well, not only in the main Quetta Markaz (centre).
In Urdu: "Main hospital gaye the Jahan sii mjhy khawarak ka saman mila tha oor waha per NGO staff ny hamain corona k baray main bataya tha. Unho ny hamian es beemari aur es ky ehtiyati tadabeer k bary main bataya tha. Unho ny bataya k pori dunya main es ka koi ilaj nahe hy. Ham sirf ehtiyat sy khud ko mahfooz rakh sakty hain. Unho ny hum to bataya k mask pahnain, dastany pahnain,  hatho ko 20 second k liye sabun sy dhoain, sanitizers ka istimal karain ager sabun na ho, 6 foot ka fasla rakhain aur bheer main mat jain. Mjhy corona k bary main mukhtalif logo sy pata tha mager NGO staff ny bohat tafseel sy bataya. Main is sii pahli koi bhe ehtiyat nahe karti the mager jis din sy pata chala hy ap sakhti sy sary ehtiyat karti hun. Main ghar main bhe sab ko kaha hua hy hath dhoin, mask pahnsain, sanitizers ka estimal karain, aur simaji fasla rakhain. Main ny aik sanitizer alag rakha hua hy aur jab bhe bahar jana ho bacho k sath to main unka hath sanitizer sy saaf karti hun kionky wo mukhtalif chezo ko hath lagaty hain. Agarcha hamary mohally main 3 corona k cases thy likum ham sab abi tak mahfooz hain, esil liye k ham ehtiyat karty hain. Meri behan apny beti ki shadi kar rahe the mager main osy corona ka kaha aur os ny multawi kar diya. Ab hamary ilaqy main log ehtiyat karty hain kionky zindagi to sab k liye aziz hy. Jo paighmaat NGO ny diye wo bohat zabardast thy lekin ye aur bhi achy ho sakty thy ager ap in ko saafi  py likhty aur har ghar main daity. Main apko ye bhe kahun ge k woo aur bhe banners lagaye aur har gao main sirf main quetta markaz main hain.
Rickshaw driver from Killi Qambrani
"During the COVID-19 days, I came to know about the precautionary measures from a number of places. Firstly, I was informed about preventive measures to avoid contracting coronavirus at the assistance distribution site, and it included wearing masks, applying sanitisers, and washing hands repeatedly. Use of masks and sanitiser was new to me. Now I use a mask and sanitiser on a regular basis. Secondly, I saw a number of banners pasted onto the rickshaws spreading awareness about the coronavirus and preventative measures to save oneself from the disease. I am also a rickshaw driver, but my rickshaw didn't carry any of the banners. The messages on rickshaws' banners included wearing masks, maintaining social distance, avoiding crowded places, using hand sanitisers, and washing hands with soap. Thirdly, I also saw banners on school walls, and walls beside main roads carrying similar messages as I mentioned earlier. Banners on rickshaws was an effective method of spreading awareness, but I would suggest that more banners should be pasted on walls across the city, especially at markets. It will be helpful in creating more awareness among the people whose mobility is low and who don't travel or come across the rickshaws with the awareness banners."
In Urdu: "In corona k dinon mein, mjy buhat say jaghon say ye hifazti tadabeer pata chali then corona say bachny k liey. Sb say pehlay to jb me imdad lenay gaya, mjhy wahan par btaya gya k corona say kesay bachna hai. Is me mask pehnna, sanitizer istimaal krna, aur achi trah say hath dhona shamil tha. Ye sanitizer ka istemaal aur mask mery liey nae baten thein, lekin me nay isko foran amal krna shuru krdia. Isk ilawa mjhy rickshoon par lagay banners say bht kuch seekhny ko mila k corona say kesay bachna ha. Mein khud b ik rickshaw driver hun, lekin mery rickshw par kuch ni tha aesa. Un banners par likha tha k hath dhonay hn, sanitizer aur mask pehnna isteemal krna ha aur fasla rakha ha apas mein, aur isk ilawa rash wali jaghon par nai jana. Isk ilawa mjy schoolon ki dewaron aur road par lagay khambon say bhi pata chala. Un par bhi yehi peeghamat thy jo pehlay wali jaghon par thy. Ye rickshon par banners ka tareeqa bhi acha h, lekin is say bhtr h k dewaron par lgaey gaey khas thor par market mae. Is say un logo ko bhi pata chalay ga jinka ana jana kam ha bht rickshaw har ak nahi isthimal kartha par market har koi jatha hae tho waha par unko agai mil jai gi."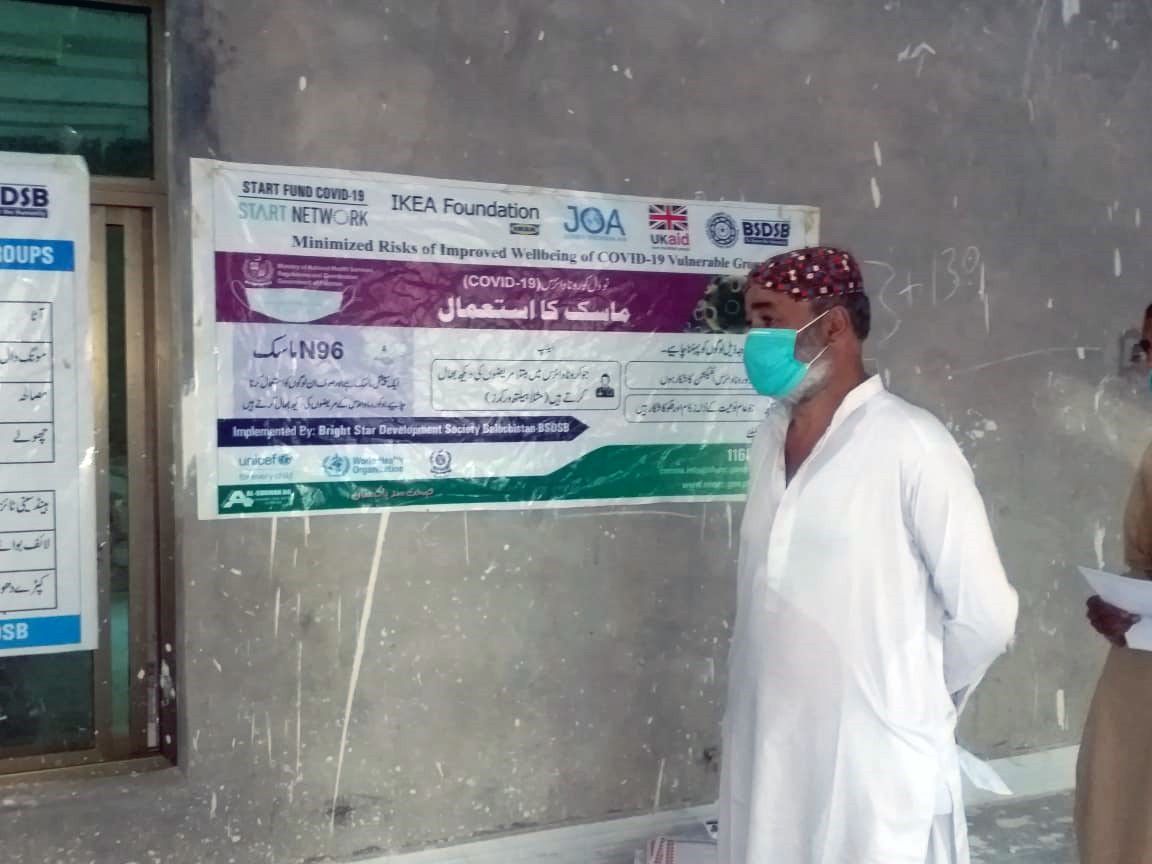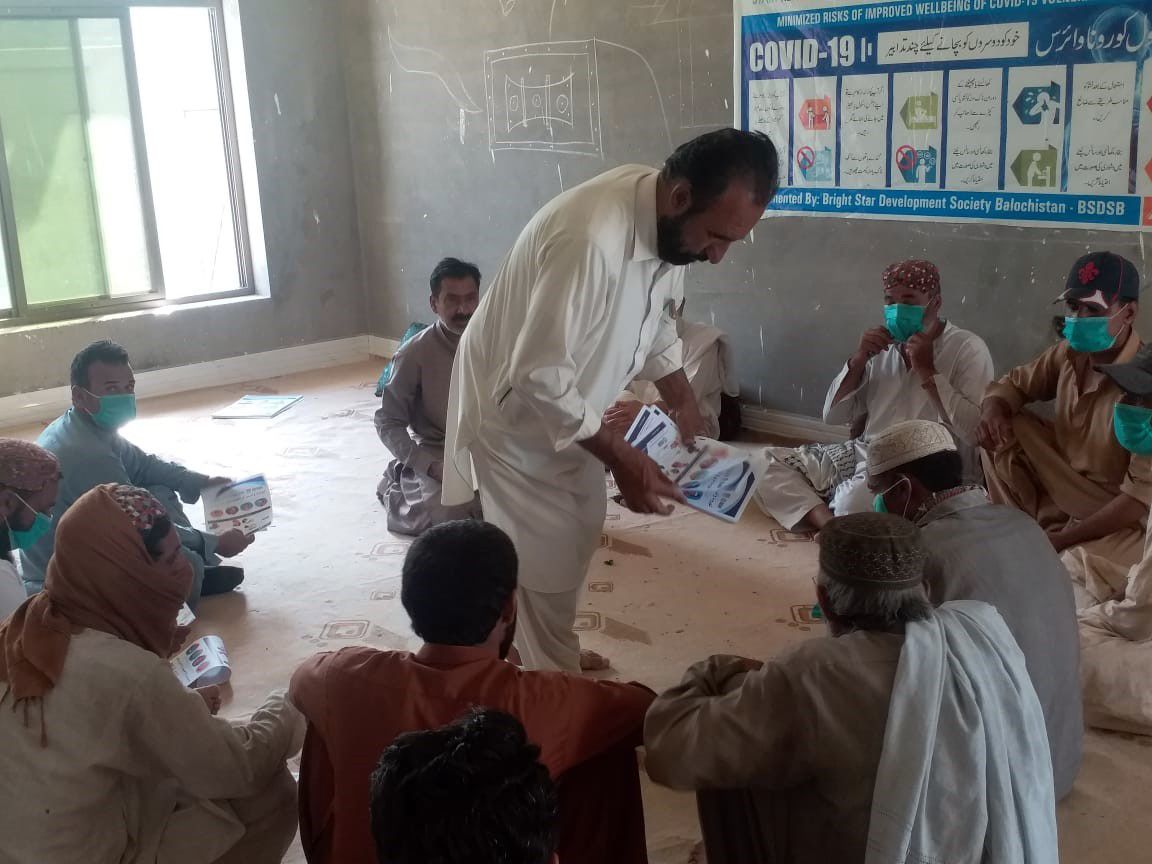 The COVID-19 response by BSDSB was one of three responses by three new members in Pakistan focusing on the delivery of food and hygiene packages to vulnerable households, and awareness raising around precautionary measures to protect against the disease. 
Read about the types of households that were targeted by HELP Foundation here.
We thank BSDSB for the photographs and GLOW Consultants for undertaking the interviews with targeted households. Please note that this response was funded by Avaaz despite the appearance of other donor's logos.